If you're aching, there's a good chance that someone, at some point has recommended the use of a hot compress to treat it. However, constantly heating up cloths and towels can be difficult, especially if you're in a lot of pain and living alone.
Well, heating pads are the next best solution – they can help and get hot without you needing to do much. They are one of the quickest and easiest ways to deal with pain.
Take a look at some of the best heating pads on offer today and see if they're the thing you need.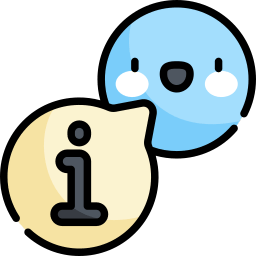 The Basics of Heating Pads
So, at this point, you might be wondering – what are heating pads? How do they work? What are they used for? How to use a heating pad? Well, I'll give you the answer to those questions and a few extra ones as well. . If I were to explain heating pads as basically as possible – they're pads of various shapes and sizes that can be heated in one of a few different ways and placed on your body to heat you up.
There are many different processes that they can use to generate heat. Some use electricity; others can employ chemical reactions while others are simply heated up with a microwave or a similar appliance.
Their primary use is for heat therapy (also called thermotherapy or therapeutic heating)
Basically healing with heat, used for reducing pain and treating certain conditions. It's what you do every time you use a hot compress to help with an injury or use a hot tub to relax yourself.
Heating pads can come in plenty of different shapes and sizes, but most are shaped like a pad, covered in insulated fabric with an outer layer of comfort fabric, like flannel or cotton that can be removed and washed. Some can be made to conform to specific body parts.
The inside of a heating pad can consist of electric wiring with heating elements, a mini-thermostat and more, in the case of electric pads. Microwavable pads will usually have insides filled with a liquid, a gel or a solid that is malleable and good at retaining heat. Chemical-based heating pads will usually have their insides filled with the chemical agents used to produce the heat along with a trigger mechanism.
Using a heating pad is relatively simple. To use an electric heating pad you need to make sure it's dry and that your skin is dry – don't use any balms, essential oils or something like that. Then, place them on the area on which you want to use them and turn them on. If you're using higher heat settings, don't place them on bare skin.
Moist, microwavable heating pads only need to be placed in the microwave (not an oven or anything else, just a microwave) for somewhere between 30 seconds and 2 and a half minutes, depending on the size. Once you take it out, let it cool until it's safe to touch, then apply it to the affected area.
For most chemicals warmers you only need to 'crack' them in order to activate the trigger mechanism and apply them to the affected area straight afterward. Reusable ones can be boiled in water afterward for a while, then used once again once they cool completely.
And those are the basics of heating pads! But, as you'll see, there's much more to them than just that. Read on to find out all the benefits that a heating pad can offer to you.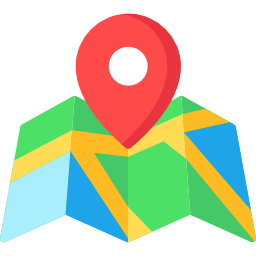 Finding a Heating Pad Near You
You might be wondering – where to buy a heating pad? Well, these days, that's easier to find out than ever before.
It's easy to make a search for 'where to buy heating pads near me' or even something like 'heating pad shops near me' and get exactly what you want.
To help you, I've made an interactive map that will quickly and easily tell you where you can find the best heating pads in your neighborhood. Check it out below.
With just a few clicks you can find all the shops that sell heating pads near you and buy one of the best heating pads today!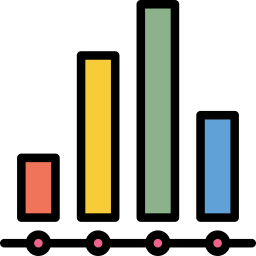 Comparing the Best Heating Pads of 2021
If you don't have the time to read the complete reviews – don't fret. I've made a basic comparison of the best heating pads of 2021 to help you decide on the best one. For more details, read my more detailed opinions below the chart.
PRODUCT
TYPE
BODY PARTS
DRY/MOIST
SIZE
Tech Love XL Extra Large Electric Heating Pad
Electric heating pad
Neck, shoulders, upper and lower back
Dry or Moist
24'' x 25''
Pure Enrichment PureRelief Neck and Shoulder Heating Pad 
Electric heating pad
Neck and shoulders
Dry or Moist
14'' x 22''
Pure Enrichment PureRelief XXL Ultra-Wide Microplush Heating Pad 
Electric heating pad
Back, stomach, chest, legs, arms
Dry or Moist
20'' x 24''
XXX-Large Heating Pad by Sable

(The Best Large Heating Pad)

Electric heating pad
Full body
Dry
33'' x 17''
Sunbeam Heating Pad for Pain Relief | King Size UltraHeat

(The Best Heating Pad for Arthritis)

Electric heating pad
Back, stomach, chest, legs, arms
Dry or Moist
12'' x 24''
Electric Heating Pad by Inside the Blue
Electric heating pad
Back, stomach, chest, legs, arms
Dry or Moist
12'' x 24''
Large XXL Heating Pad by Netsco

(The Best Foot Heating Pad)

Electric heating pad
Back, stomach, chest, legs, arms, feet
Dry or Moist
20'' x 24''
Sunbeam Heating Pad for Fast Pain Relief | X-Large XpressHeat

(The Best Foot Heating Pad)

Electric heating pad
Back, stomach, chest, legs, arms
Dry
12'' x 24''
Beady Heat Microwavable Heating Pad

(The Best Microwavable Heating Pad)

Moist, microwaveable heating pad
Joints
Moist
10'' x 5
Sunbeam Heating Pad for Pain Relief | Standard Size Hot & Cold Therapy

(The Best Infrared Heating Pad)

Electric heating pad
Lower back
Dry or moist
11'' x 21''
UTK Far Infrared Tourmaline Heating Pad
Infrared heating pad
Full back
Dry
38'' x 21''
HL HEALTHYLINE - Heating Pad
Infrared heating pad
Full back
Dry
32'' x 20''
YTS Infrared Heating Pad

(Editor's Choice)

Infrared heating pad
Full back
Dry
20'' x 25''
Pure Enrichment PureRelief Lumbar & Abdominal Heating Pad
Electric heating pad
Lower back
Dry or Moist
44.5'' x 9.5''
My Heating Pad- Neck & Shoulder Wrap

(The Best Rice Heating Pad)

Moist, microwaveable heating pad
Neck and shoulders
Moist
19.7'' x 11''
Thermotech Automatic Digital Moist Heating Pad
Electric heating pad
Back, stomach, chest, legs, arms
Moist
27'' x 14''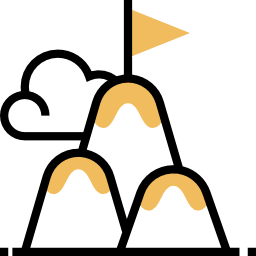 Top 16 Heating Pads You Can Get in 2021
There's a lot to be inspected and examined in a single heating pad. That's why, if the comparison table isn't enough for you, the section that follows brings all the answers. Enter the detailed reviews!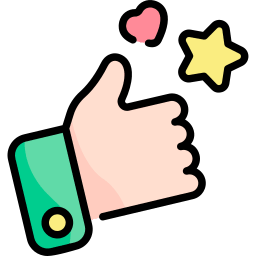 Heating Pads – The Main Benefits
While heating pads might seem simple and relatively limited, they can be incredibly beneficial if you use them in the right way. Here are a few of the major benefits that they offer.
1Pain Relief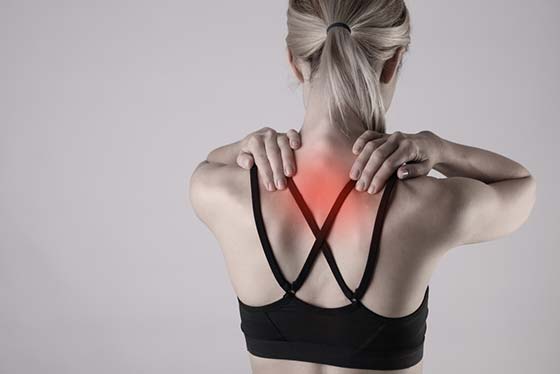 If you've ever had an injury in your life, you've probably used a hot compress to help with the pain at some point, and you're familiar with the beneficial effects it has. If you're really old-school, you probably used a roof tile heated on your stove and wrapped in a cloth for that purpose.
Well, heating pads are the modern equivalent of that, and they can help with all different sorts of painful problems. General neck and upper back, middle back or lower back pain are the most common ones, but there's more that they can be used for — arthritis, neuropathy, plantar fasciitis, menstrual cramps, headaches, earaches, and so on.
But how does it help reduce pain? Well, it's a combination of a few different effects, and it works differently depending on the type of pain you're feeling.
For most types of pain, like back pain, heat therapy works by stimulating the heat receptors in your skin, thus lowering the transmission of signals from the pain receptors located there, thus reducing the pain your feeling.
If you're feeling pain because you're tense, it helps relax your muscles – even the deeper tissues – much like a massage does, which reduces the amount of pain and tension that you feel. Long-term use can even help reduce the occurrence of muscle cramps which appear due to constant muscle tension.
In some cases, heat therapy can even be more efficient at reducing pain than medication is. Yes, even when it comes to intense pain like menstrual cramps. In general, heat also has a calming and analgesic effect, which helps reduce the intensity of the pain you're feeling. But I'll talk a bit more about that in the next section.
2It Helps Relax You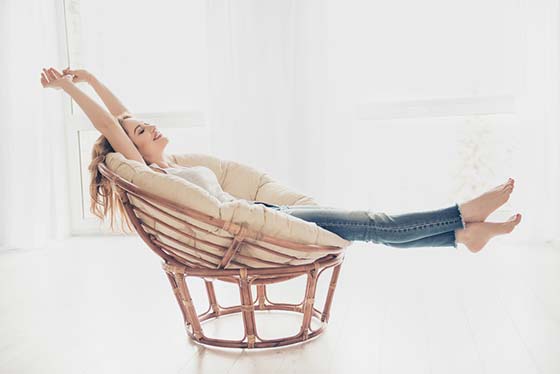 Heat has a calming effect on the human body. Due to evolutionary reasons, our bodies instinctively associate heat and warmth with a feeling of safety and comfort – this is why you feel so comfy under a warm blanket.
That feeling makes our body produce 'feel good' chemicals, like endorphins, dopamine and so on, while reducing the amount of stress chemicals that our body is producing, like cortisol.
This means that heat therapy and heating pads can help make you feel less anxious, less depressed and overall less stressed after a long, rough day. Heating pads also relax your muscles and ease tension, thus providing another form of deep relaxation.
3Improves Your Blood Flow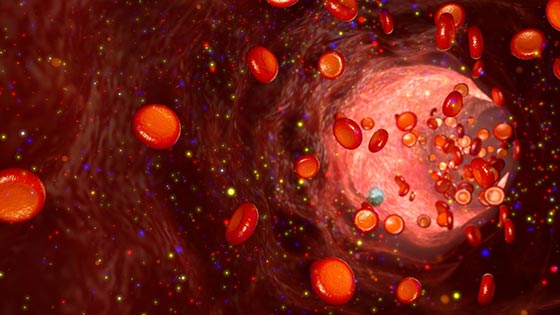 As you probably learned in high school, heat makes most materials expand. This is true for your body as well and especially your blood vessels.
When your blood vessels expand, it improves your blood flow, allowing your muscles to get more nutrients and oxygen and so on. This can help you recover faster from soreness after a workout or speed up the healing process of certain injuries.
This can also help you if you suffer from hypertension since it will lower your blood pressure, thus temporarily helping with your symptoms.
However, if you have low blood pressure, beware – using heat therapy will lower it further, by improving the rate at which your blood flows. That's why you need to be careful when using them.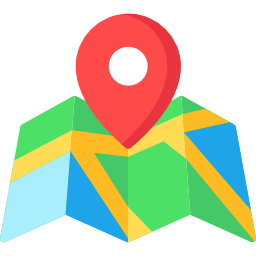 How to Find the Right Heating Pad – The Most Complete Buying Guide
I know what it's like waddling into a store, thinking it will be easy to buy something a new appliance you've never used before if you just apply common sense. I mean, how hard could it be? I'm also familiar with the feeling of regret that you get afterward. So, to help you avoid all that, I've come up with a list of a few important things to think about when going heating pad shopping. I hope it helps.
1Find Your Type
The first thing you need to know is that there are many different types of heating pads out there, not just the most common ones you've probably seen. They are incredibly different, and you need to know all their ins and outs to find the right one for you.
Here are some of the most common types and how they work.
Electric heating pads

This is the most common type of heating pad and works in a similar way to electric blankets. You plug them into an electric socket, and the heating circuits within them heat up the entire pad. They produce a dry type of heat which can dry out your skin and cause irritation.

They can produce incredibly high heat, higher than most other types and they often offer the most control, but they're also the type that's most likely to burn you if you're not careful. Never fall asleep with them on and only used them for short periods of time.

Some of these heating pads don't plug into a socket and use batteries, while others can also be plugged into a USB port. There are also electric heating pads that can offer moist heating therapy by being sprayed with a light watery mist before being turned on, though this isn't true moist heat therapy.

Infrared heating pads

Technically speaking, this is just a special type of electric heating pads, but they're different enough to be considered their own type. They use far infrared light to generate heat and penetrate deeper into your tissues.

They are more expensive since they often use materials like tourmaline stones and amethyst crystals in their wiring. However, they do offer the same type of adjustability as regular heating pads without being as dry as them, and they are less likely to burn you.

They also give off negative ions which produce chemical reactions in your body similar to the ones that it produces while you're exercising, which leads to the release of endorphins. You'll also find them to be more flexible and they can be lied on or used as an insert for your office chair to help with your back pain while you work.

Moist heating pads

These heating pads are usually a bag filled with a liquid or gel that conducts heat easily and can be heated up in a microwave for use. As you might have guessed from the name, they produce moist heat which won't dry out and irritate your skin. Moist air also penetrates deeper into the skin, thus providing deeper relief.

However, they don't get as hot as electric heating pads do and they lose heat much faster. They also won't last as long, since the liquid or gel inside of them will start to evaporate after some time.

Heat packs

If you're a survivalist or mountaineer or know someone who is, you've probably come across this type of heating pad more than once. They usually look like small tablets or disks, and they can be 'snapped' in half to activate them. This produces a chemical reaction which generates heat and fizzles out after a short while – usually 10 minutes to 30 at most.

Some of these packs are disposable, while others can be boiled in water and then re-used up to a certain number of times. They don't get as hot as other types, and they are always rather small, but they are highly portable and easy to use on a whim, requiring no preparation or power source at all.
2The Shape and Size Should be Just Right
As with most things, heating pads can come in many different sizes and shapes, depending on what they're made for. Size does indeed matter here, and I'll give you a few pointers on what size and shape of heating pads you want for specific uses.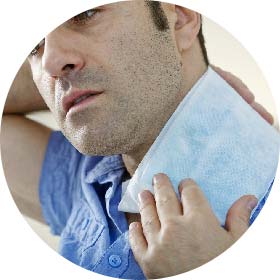 Neck heating pads
These heating pads are usually designed to drape over your neck and shoulders and relieve the pain and tension you might feel there. Most are rather small, but a few of them also stretch to cover the upper back as well.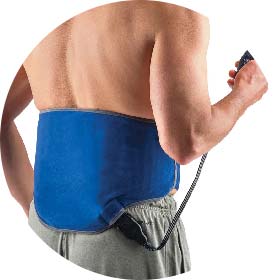 Back heating pads
Among the largest heating pads available and designed to be used on your back. However, you can also use them on other areas of your body like your legs or your chest and stomach.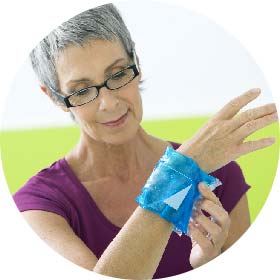 Joint heating pads
Usually among the smallest heating pads available, they are designed to be used on joints like your knees, elbows or ankles. Some of them have adhesive pads that allow them to stick to your joints.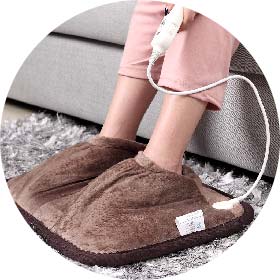 Foot heating pads
Not quite pads, these things often look more like bags or purses and are meant to completely envelop your feet and heat them completely. Just slide your feet into them, and you're ready to go. Some of them can also be used for your hands, but I suggest you wash them first.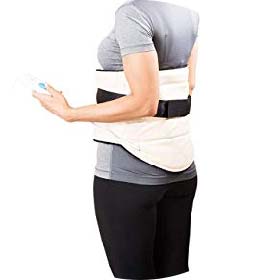 Lumbar heating pads
These pads are usually shaped like a belt with a wide back, meant to be wrapped around your waist to heat up your lumbar area. They usually have some sort of way to buckle up on the front.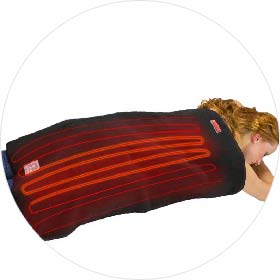 Full-body heating pads
The largest type of heating pad by far, it's made to cover your entire body. They're not common but they exist, and you might find them useful if you need to produce a sauna-like effect for your therapy and you don't exactly have access to a sauna or a hot tub.
3You Need the Features that Fit You
At their core, heating pads are relatively simple, but they can have some surprisingly advanced features that can make all the difference. Take a look at some of the common features that heating pads can have and figure out which ones are right for you.
Intensity settings

This is one of the most basic features on heating pads, the ability to choose the level of heat. Some will have rather basic settings of low, mid and high, while more advanced heating pads will allow you to choose one specific temperature from a range.

Auto shut-off

This is a safety feature that most heating pads should have, though some omit it. It makes the pad shut off automatically after a certain time, which you can sometimes set and change.

Adhesive pads

A small but important feature which allows a heating pad to stick to your skin and stay in place without you needing to hold it there. It's particularly useful for smaller heating pads meant to target an extremely specific area.

Electric stimulation

Some pads also feature the ability to send small electric pulses to your skin and muscles, effectively working like EMS or TENS machines. This can help with recovery from injury and can even strengthen your muscles.

Wireless connectivity

Some of the more advanced heating pads, especially those meant to be used on the go, will have a remote control. Some of them can even interface with your smartphone, while you can use as the remote.
4Corded or Cordless?
When you're buying an electric heating pad, there is one hugely important thing you need to consider – how the heating pad is powered. It could make a huge difference in how you use it, and I'll go over the main options here.
Corded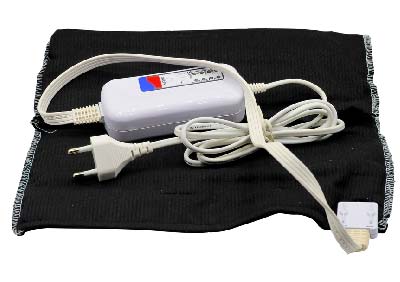 These are the most standard electric heating pads which are plugged into a power outlet. They are usually more powerful and have more settings and extra features available. However, they're not quite portable. There are versions which are more portable though, since they use a USB charger and can also be plugged into a USB port, but they are also less powerful and not as adjustable.
Cordless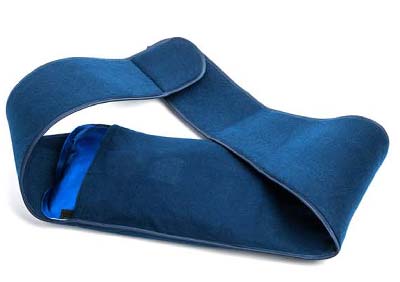 These heating pads use batteries for power. Some are rechargeable while others use disposable batteries instead. Most of them don't have the same amount of power and the wide range of settings available to corded heating pads. However, they are incredibly portable, and you can use them without needing a power source nearby.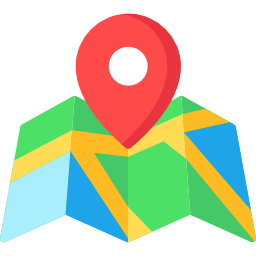 Surprising Uses for Heating Pads That You Haven't Considered
Now, at this point some of you might be saying 'sure, heating pads can be useful sometimes, but I won't use them that often so there's not much point in getting one' – but that's not necessarily true.
Heating pads have a lot more uses than you might think, some of which you probably never considered. Here are just a few of them to make your reconsider how useful heating pads can be.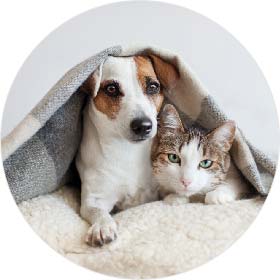 Making your pet feel warm
Dogs and cats love to curl up in warm places, and a heating pad might be just the right thing to make them feel comfy. Of course, you shouldn't use an electric pad for this, but a microwavable one.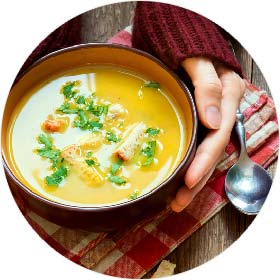 Keeping your food warm
Don't have a thermos bag to keep your food warm while you're out? No problem! Use a small heating pad that you can wrap around it, preferably a microwavable one, and stuff it into a bag! It will keep your food warm, at least for a while.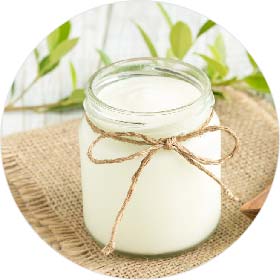 Fermenting food
If you've ever made yogurt or any other food that requires fermenting, you might already know that a heating pad can help. Fermenting requires heat, and an electric heating pad can easily provide more than enough low, sustained heat to ferment food. It works for making beer or raising bread dough as well!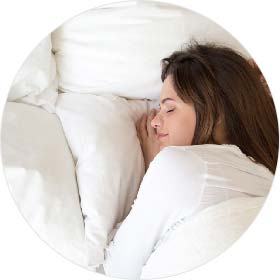 Warming up your bed
In case your bed is in the colder part of the house, it can probably take a while until you feel comfortable and hot enough to fall asleep. Placing a heating pad under the covers for around 10 to 15 minutes before you go to sleep can make it feel perfectly comfy.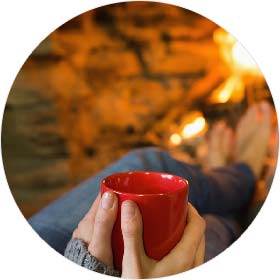 Heating up food and beverages
Okay, probably not the most common of uses, but if you don't have a microwave and you have a heating pad, it's a viable solution. It can be faster than the stove and more even, especially for some types of food.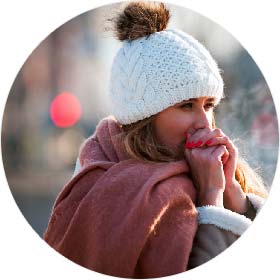 Cold compress – What?
Yes, you can use some microwavable heating pads as an effective cold compress. Just place them in the freezer and take them out after a while to use as a cold compress. You only need to make sure that freezing the pad is safe before you try it.
Just remember all the basic safety precautions for using heating pads when trying any of the alternative uses for them.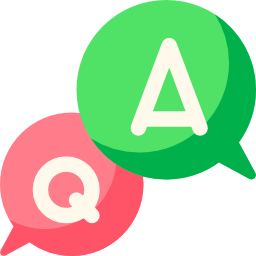 Heating Pads FAQ
The Finale
Now you know almost everything there is to know about heating pads that there is to know. I hope I managed to help you at least a little bit.
This is probably the point at which you'd want to know which one of these heating pads is the best. While I can only give you my insight and it might not be the best one for you, I think that the YTS Infrared Heating Pad is the best heating pad of 2021.
It's got a lot of adjustability, it's comfortable, it can be used in a wide variety of ways and it doesn't even cost that much. It's as close to perfect as you can get, at least for me.
What do you think? Tell me in the comments and feel free to disagree with me – I like to hear differing opinions.