Did you know:
A lot of experts recommend sleeping on the floor as a remedy to spine problems since it's one of the most natural sleeping positions?
After all, our ancestors didn't have fancy beds and pillows and sleeping on the ground is what our bodies evolved for. That's all nice and well but as I think you all know, sleeping on the floor is not exactly an easy thing to do.
Futon mattresses are one way to deal with that – they are designed to be used on the floor, fairly comfortable, and they don't even cost all that much.
Take a small journey with me today, into the world of futon mattresses.
What is a Futon Mattress? – A Short History Lesson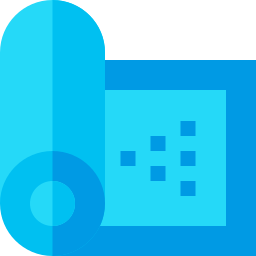 If this is the first time you've heard of futon mattresses, you're not alone. But even if you have heard about futons, you might still be confused about them.
That's because people refer to many different things as 'futons' – even beds, couches and mattresses that aren't futons at all. If I had a penny for every time, someone called their folding bed a futon…
Even the big brands are guilty of this, labeling products that clearly aren't futons with a misleading name. To help you distinguish what is and isn't a futon, I'll give you a brief rundown of futon history.
The word futon is Japanese, and refers to a traditional Japanese bed, laid out on the floor and consisting of a few different parts – shikibuton (the mattress), kakebuton (the comforter) and makura (the pillow).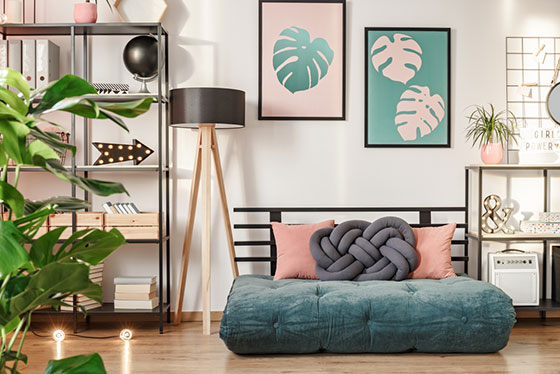 Of course, the idea of a futon evolved through the ages and these days, the word 'futon' mostly refers to just the mattress (shikibuton), even in Japan. This is what most people in the USA refer to as a futon.
While futons were traditionally designed to be used on the floor, futons are also commonly used on furniture as well, especially in America.
The American idea of a futon is far removed from the Japanese original, and when you say 'futon', most people will think of a sofa that can be folded out into a guest bed.
I'm a bit of a stickler for things like this so I wouldn't call that a futon, but I do realize that ship has sailed.
But there is one thing that American futons kept mostly intact:
The way they're constructed.
Futons are quite thin for regular mattress standards – usually no more than three inches – and they're extremely firm. This is the result of their construction process.
They're usually made mostly out of natural materials like wool, latex or cotton (the traditional choice). Layers of these materials are compressed, folded and tufted in place.
Because of this, futons are more comfortable and long-lasting than they appear at first, but this also makes them difficult to maintain – but more about that later in the article.
This is also what makes Japanese futons foldable, unlike regular mattresses. They are intended to be folded up in the closed during the day together with the sheet and comforter and unfolded when you need to sleep. Alternatively, they could also be used for sitting. .
The issue with this, at least in the west, is that we mostly have hardwood or stone floors, while the Japanese use tatami mats as flooring. They're similar to gym mats, but usually made from woven grass or reed, foam or rubber, and their softness provides a better base for a futon.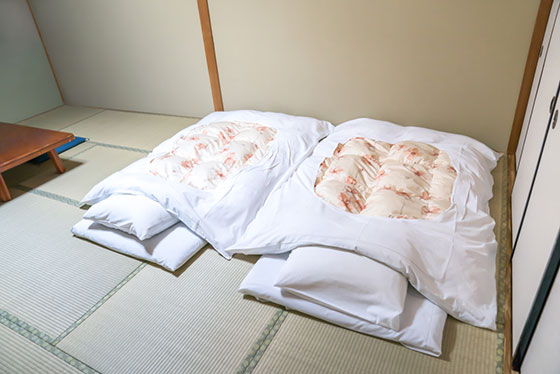 Due to that, futons were adapted to the west as slightly thicker mattresses on a wooden base for added comfort. They still kept a bit of their original design philosophy, keeping their compactness and versatility, albeit in a different form.
So, now you know what a futon is and the difference between Japanese-style and Western-style futons. But why would you get one?
Well, that's what I'm going to talk about next, so stick with me.
The Benefits of a Futon Mattress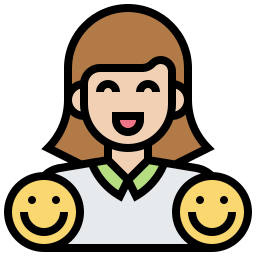 I've often encountered the opinion that futons are just 'lesser' mattresses – cheaper, thinner and overall just worse than regular ones.
I see why people would think that since that's often how they're marketed, but that's not the case.
Here are some unique benefits you get with a futon mattress.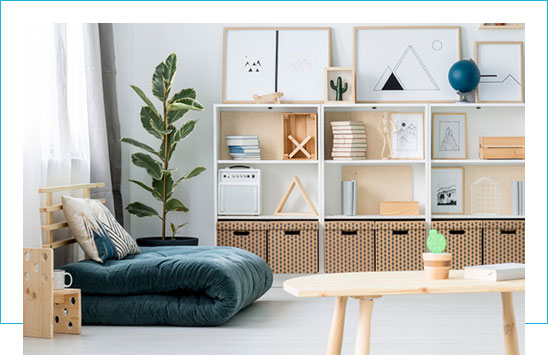 1
You Save Space
This is one of the main benefits of owning a futon – especially a Japanese-style one.
Since you can just sleep with it on the floor and roll it into a bundle and store it away during the day, you free up a lot of floor space.
Western-style futons also fold into a couch that can be used for sitting during the day, so they take up less space than a regular bed.
This is especially great if you're living in a small apartment, which is why a lot of college students use futons.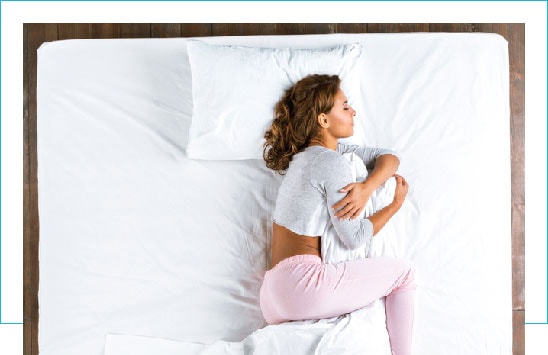 2
Sleeping on the Floor is Good for You
Yes, I've mentioned this before, and it might be hard to believe, but sleeping on the floor is good for your back. A traditional mattress might feel comfy, but your body sinks into even the firmest ones, and your spine becomes misaligned.
Sleeping on your back, on the floor, puts your spine in the most natural position possible, thus helping you avoid various back problems.
Japanese-style futons are designed for use on the floor, which is why they're the ideal choice if you want to start sleeping the right way. Believe me; once you get used to it, your back will thank you for it.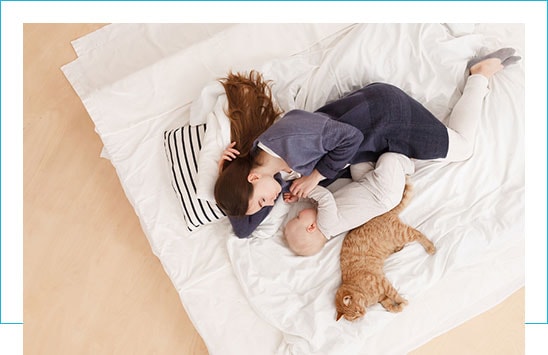 3
It's Safer
If you have children, you know how dangerous beds can be for them. No matter how much you try to stop them from bouncing on them, they'll try to do it anyway.
Well, there's no bouncing on a Japanese-style futon. You also can't fall off it during the night, which is great when your child is still small and sleeping with you.
It's even better if you just have pets that are prone to biting and destroying stuff. You can just store away the futon during the day and let them into the room without any worries.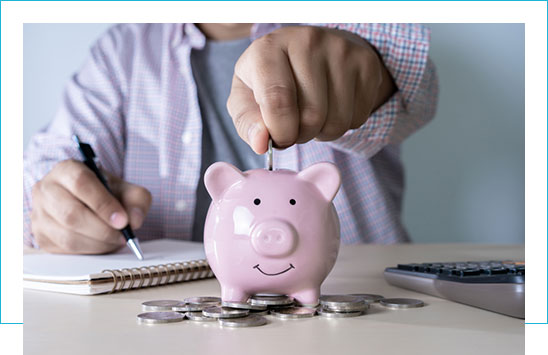 4
They Cost Less
Overall, even high-quality futons will probably cost less than most low-quality beds. Most of the price of a bed goes into the frame, not the mattress so by getting a Japanese-style futon and sleeping on the floor; you'll save yourself a lot of money.
Even if you get a western-style futon, you'll still be saving a ton of money when compared to getting a regular bed.
The best part is – you're not getting a lesser sleeping experience by paying less in this case. You're just getting a different – and in my opinion better – experience.
Where to Find a Futon Mattress Near Me?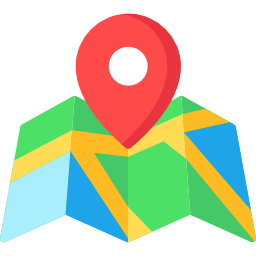 That might be what you're asking right now, if you already decided you want to get a futon mattress.
Well, it can be difficult to find a good shop, especially since a lot of them might just sell the type of bed that westerners call futons, instead of what you want. So, how to find the right one?
It's easier than you might think – a quick search of "futon mattress shop near me" or "buy futon mattress near me" or even something like "japanese-style futon mattress near me" will probably do the trick.
But why even open a new tab to do that when you can just take a look at the map below!
Here you can easily browse all the shops near you, see what they have to offer, when they're open and get the exact futon mattress you want as soon as today! Yes, it is really that simple.
Best Futon Mattresses in 2021 – A Quick Comparison Chart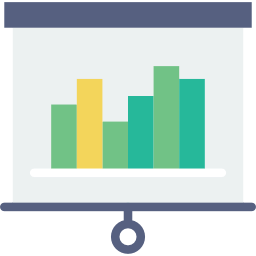 If you're interested in getting a futon mattress but don't have the time for all the details, check out all the products and the relevant info about them in this handy chart!
But if you're interested in more, keep reading!
The 12 Best Futon Mattresses of 2021 Reviewed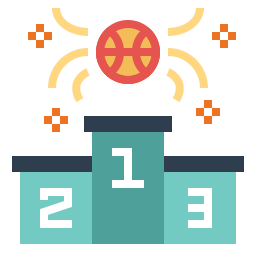 If you want to know why I picked these 12 products as the best ones, take a look at my detailed reviews below.
How to Pick the Right Futon Mattress – A Through Buying Guide
Buying a futon is quite different from buying a regular mattress – so I'll give you a few tips to get you started.
You're probably familiar with most regular mattress sizes – full, double, queen, king and so on. I have to tell you that it won't do you any good here since most futons have completely different size categories.
Here are some of the common futon sizes:
Chair

These are some of the smallest futons available at sizes of around 28 by 54 inches. They aren't quite suited for sleeping or regular use – except maybe by children. They're good for afternoon naps, though.

Twin Split

The size of a futon mattress like this is around 39 by 54 inches, but it can't be used as a bed on its own – it requires an additional ottoman for that.

Twin Lounger

This is basically the same deal as the twin split size, but the additional ottoman-sized mattress is included.

Full

This is the most common size, and it measures in at around 75 by 54 inches when unfolded. It's quite well-suited for regular sleeping and can easily fit one adult person.

Loveseat

Sometimes called 'full split' this is a smaller size, measuring in at 54 by 54 inches. If you want to sleep on it, you'll need an additional love ottoman mattress, bringing the size up to 75 by 54 inches.

Full Lounger

Basically, this is the same as the loveseat size, but with the additional ottoman mattress included.

Queen

The standard queen size 80 by 60 inches when unfolded. They can accommodate two people at most, though it can be tight.

Queen Split

These measure in at 60 by 54 inches when they're unfolded and require an additional ottoman to be used as a queen bed. However, they can be used as a smaller bed for a single person by themselves.

Queen Lounger

This is the same as a queen split, but it comes with the ottoman mattress (60 by 26 inches) included.
Keep in mind – these sizes are for western futons. If you're looking to get a Japanese-style futon, the sizes are a bit different, though some have the same names.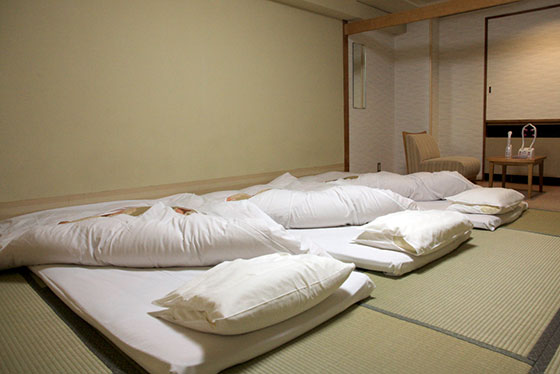 These are the common Japanese-style futon sizes:
Single: Usually around 35 by 78-3/4 inches, this size is well-suited for one adult person, though there's not much room to move around.
Double: Around 47-1/4 by 78-3/4 inches can be used by two people or one larger person.
Queen: This size is usually 59 by 78-3/4 inches, and it's one of the largest sizes available, suited for two adult people, leaving enough space for both to move around.
King: Usually the largest size available, it measures at 70-3/4 by 78-3/4 inches, and it can easily fit two or even three people on it.
There are a lot of other sizes besides those, but you'll mostly encounter these in the wild. See how much space you've got and how much space you need to sleep on and decide on the right size.
Mattress covers, also called protectors, quilts, toppers, and other things, are coverings for your mattress, designed to make it look more appealing, protect it and make it that little bit more comfortable.
They aren't always a necessity, but they're good to have, and Japanese-style futons are designed to be used with them. Western-style futons, on the other hand, don't need a cover but it definitely won't hurt to get one.
Some futons eve come with covers included, but that's not so common in the west.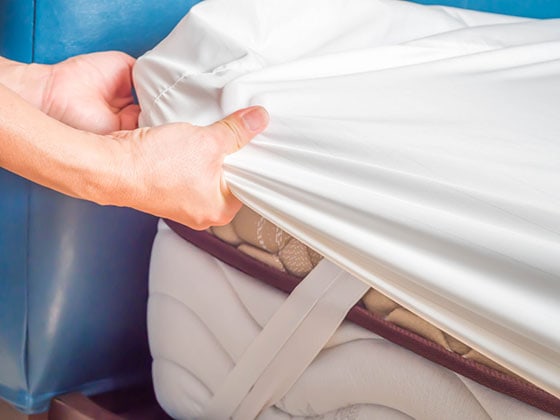 One of the most important things for a mattress cover is to be breathable. You don't want to be sweating through the night because of it. Cotton covers are probably the best in this regard, but microfiber covers aren't bad either.
They also need to be water resistant, which will help with accidents that might occur and prevent the mattress from absorbing too much moisture through your sweat. That will help with keeping your futon in good shape.
It's a bit of extra expense, but it might be worth it.
Both western-style and Japanese-style futons are quite unique and sleeping on the can be difficult if you're not used to it.
This is especially true if you prefer sleeping in certain positions and that can make it harder for you to adjust. You might have to change-up your habits if that's the case.

Say what
I'll give you a quick rundown of how well-suited certain sleeping positions are to sleeping on both western and Japanese-style futons and you can figure it out for yourself based on that.
Western-style futons:
Back Sleepers

You'll probably have a fairly easy time accommodating to a futon. If you like to sleep in a more spread-out position, though, you might have a bit of trouble with falling off the bed.

Since space is probably not that much of an issue for you, you won't have too much trouble adjusting to a futon. In fact, you probably won't even notice the transition.

Stomach Sleepers

This is the worst sleeping position, and on a futon, it can be even worse. Since futons are not as thick as regular mattresses, you'll probably have more trouble breathing than usual. You might be able to adjust to it, but it won't be easy.

Combination Sleepers

Futons are quite small, so there's not a lot of space to move around and change positions. You won't have such an easy time adjusting to that, and you might hit yourself or fall off the bed a few times during the night. You can still adjust, but it will take time.
Japanese-style futons:
Back SleepersYou're probably going to have little to no trouble accommodating to sleeping on a Japanese-style futon. Even if you sleep in a more spread out, starfish-style position, you're going to have more space than ever, and you won't have to worry about falling off the bed.
Side SleepersFor you, this will take some getting used to. You won't be able to place your arm underneath your body anymore, and you'll have to adjust a bit. However, sleeping on your side will still be possible.
Stomach SleepersIf you happen to sleep on your stomach most of the time, I'm afraid that Japanese-style futons are not for you. Stomach-sleeping is already bad for your breathing, and this would make it even worse. Not to mention that your spine will suffer a lot. Change up your sleeping position or give up on futons.
Combination SleepersThere are some positives and negatives here for you. You'll never fall off the bed again or hit yourself on the bed frame, that's for certain. However, if you roll over onto your stomach or onto your arm, you'll have a worse time than on a regular bed.
Traditionally, futons were only made using a few different materials, but over the years that changed significantly.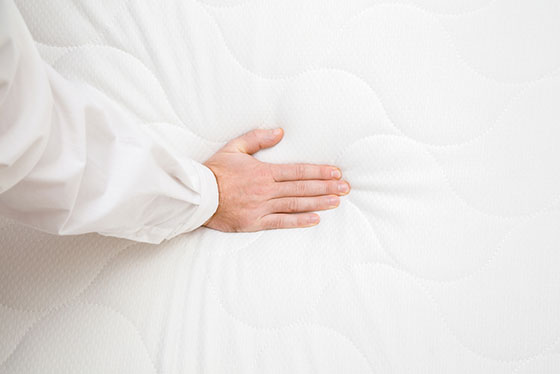 Today, futons are made from all sorts of stuff, and it's not all good, so it's best to be careful when buying.
The most common materials used for futons today are:
Cotton – This is definitely one of the best materials available since it's natural and causes no allergies, but it's also expensive. You can find futons with cotton exteriors, but cotton filling is rarer.
Polyester – The most common material used in futons as filling. It's good overall, but it might cause allergies, and it can retain a lot of heat.
Foam – Lots of futons use foam – both western and Japanese ones. Foam can work well but it does retain a lot of heat, it can cause allergies and sometimes it isn't supportive enough.
Metal Springs – Like regular mattresses, some Western-style futons also have springs, usually encased in foam or cotton. They can offer more support than purely foam mattresses, but the springs can be difficult to sleep on, and they can poke through the fabric.
Wool – This is rarer, but higher-quality Japanese-style futons are often filled with wool. It's completely natural, soft and offers far more comfort than cotton does. However, it can be lacking when it comes to support, and it's difficult to maintain.
It's difficult to say which material is the best.
Western-style futons have two different folding styles – bi-fold and lounger, also called tri-fold.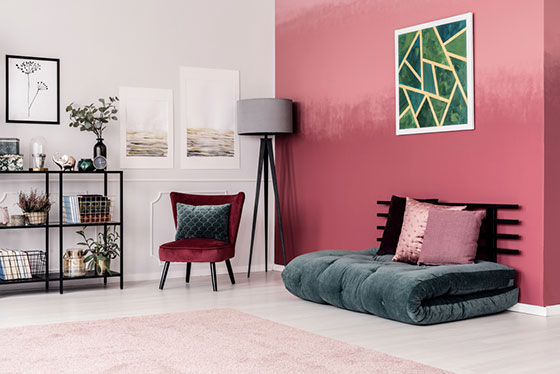 The difference between the two styles comes down to this:
Bi-fold futons have a single fold running through the middle of the mattress. They are larger, and their frames take up more floor space. However, they can seat more people at once and are easier to set up for sleeping while being more comfortable overall.
Tri-fold futons are actually a smaller bi-fold futon with an additional ottoman mattress that can be stored below the frame. They take up less floor space and are more versatile since the ottoman can be used for a footrest or a separate piece of furniture. However, they are more difficult to sleep on.
Both styles are valid choices – it just depends on what you need and how much space you have.
How to Take Care of Your Futon – A Step by Step Guide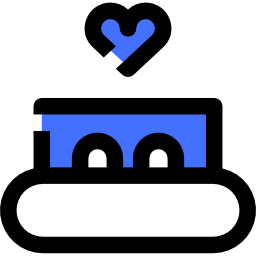 In the west, futons are usually considered to be low-grade mattresses – cheap, uncomfortable and with a short lifetime.
clean a regular mattress.
Don't worry, it's not that difficult – you only need to follow this step-by-step guide, and your futon will live to see old age.
Here's how to take care of Japanese-style futons: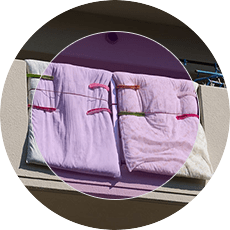 Air out your futon
Hang your futon outdoors, in the sun when it's not too humid. Use a carpet beater on it to get some of the dust out. Try to do this every day if possible or at least 4 times per week. If you can't do that, putting in the dryer is also good, but not ideal.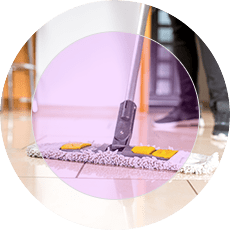 Clean the floor
While the futon is airing out, vacuum the floor and make sure it's as clean as possible. Pay special attention to the spot where you'll be laying out your futon.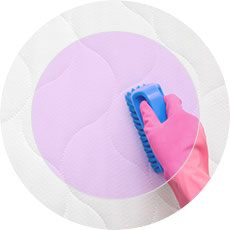 Regularly wash the futon
You need to wash the futon at least once per month – but you need to wash it by hand. Machine washing and drying is not something you should do. Soak it in water and clean it with a natural cleaning solution, then place it to dry outside, in the sun. Don't use it again until it's completely dry or it might develop mold. If you can't wash it and dry it on your own, take it to a dry cleaning store that washes futons.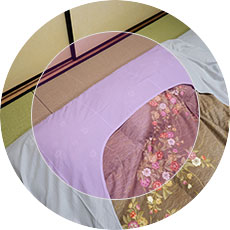 Flip your futon weekly
You should flip your futon once per week, so it doesn't get too smelly or absorb too much sweat. This, along with airing it out regularly should keep it in decent shape.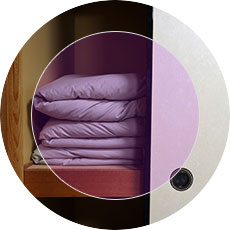 Keep the futon store separately
When you're not using your futon, store it in a closet that's dedicated only to it. Try to give it some space to breathe, don't stuff it into a tight compartment. That's the best way to avoid unwanted smell or mold.
FAQ About Futon Mattresses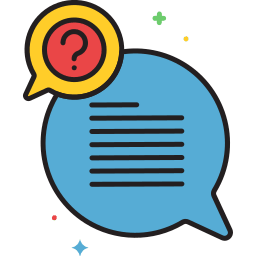 The Final Word: Which Futon Mattress did I Choose as the Best One?
There's more to know about futon mattresses, but I'm sure this is more than enough for you to decide if you want one or not. Trust me, it can be difficult to transition to it, but it's worth it in the end.
There's just one more thing left – to give you my pick for the best futon mattress on the market.
As far as I'm concerned, that would have to be EMOOR Japanese Traditional Futon Mattress since I prefer Japanese-style futons and this is one of the best here.
That's about it for today – come back next time for more!