About The Author
Hi, my name is Todd.
I'm no certified doctor, but…
If we're talking about back pain, mattresses, and pain relief, I'm the guy you'd want to listen to.
I've spent over 10 years in hospitals, private clinics, visited over 40 different experts to solve my recurring back pain issue.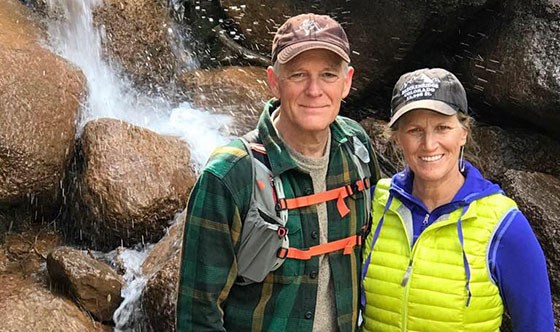 After I've realized I need to take things into my own hands, I've got to work.
I've studied over 15 medical books and countless resources on the topic, and tested dozens and dozens of methods and techniques, pillows, sheets, mattresses, bed frames… you name it.
I've managed to solve my lower back pain issue after a long journey of studying and practicing.
If you have some sort of pain, or you're here to get educated about mattresses, I can guarantee that you'll be an expert on the field.
Buying a new mattress is a big decision – it will probably stay with you for years, and it will be your companion for countless nights. Humans spend a third of their lives sleeping, so you should try to make sure that you spend that time in good company.However,
finding a good mattress
is not as easy as it might seem at first. There's a lot to take into account even before you enter a store. As with most purchases, the key to getting a good mattress is being well-informed beforehand.
Well, today I'll try and help you get well-informed with this article by telling you all about the different types of mattresses, their construction, their benefits and downsides, and their optimal use. Stick with me to find out everything you need to know to make a good, informed purchase.
What Makes a Mattress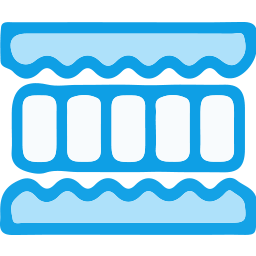 To know more about mattresses and all the different types that exist out there, you must first know a bit about the basics. That includes the design and construction of a typical mattress, the way they work, as well some practical know-how about the maintenance that an average mattress needs.
After all, when you're buying something you ought to know what's inside it and how it was made.
In this section of the article, I'll tell you all about that, so let's get started.
There are many different types of mattresses out there, and all of them have their own different quirks of design and use different materials. However, some things never change. Just like every type of chair has a seat that you can put your butt on, all mattresses also share some common traits.
The main two parts of each mattress are the core and the comfort layer.
The core of a mattress is also called the support layer, and it is the center part of the mattress, the thing that gives it its supportiveness. It is typically made to be the densest and hardest part of mattress and consists of things like spring coils, cotton, foam or latex.
It is also the simplest part of the mattress to make and to get right, as well as the most durable part. If you have problems with a mattress, the core will rarely be the direct culprit. Most mattresses will have at least a decent, functional core if nothing else. The cheapest of mattresses are most likely to have faulty core construction, and you'll end up having back pain problems.
The comfort layer is also called the upholstery layer, and it wraps around the core. Its purpose is to make the mattress more comfortable and is typically made of materials like wool, cotton, foam or latex. This is also where most of the cost of your mattress comes from since it's one of the most complex parts of the mattress.
When pain problems with mattresses happen, something usually went wrong in this layer. It is the part of the mattress exposed to a lot of wear-and-tear and it can degrade quite quickly, especially if cheaper materials are used to make it.
If your mattress is not as comfortable as it used to be and you're having nighttime pains, it's probably because one of the components of the comfort layer wore out over time.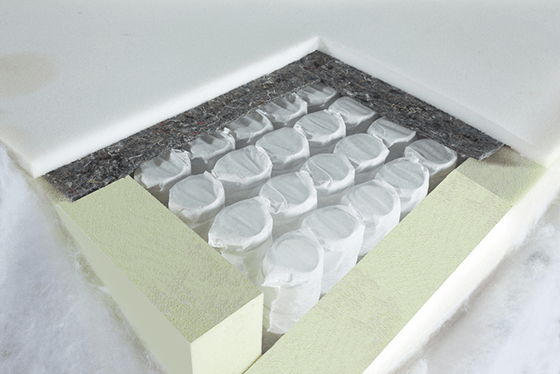 This layer typically consists of three distinct parts – the quilt, the middle upholstery, and the insulator.
The quilt is the topmost part of the comfort layer and what will be visible when you're buying the mattress in a shop. The most common materials that a quilt can be made from include things like cotton, polyester, foam, or a mix of materials.
This is a classic case where you shouldn't judge a book by its cover – don't buy a mattress based on the feel and look of the quilt. You will cover it with bed sheets or mattress covers anyway. What's more important are the materials used to make the quilt, since that will affect the hypoallergenic and antimicrobial properties of a mattress, as well as breathability.
Sometimes, you won't be able to see the quilt, though. The mattress might already be encased in a layer of protective fabric called ticking. It is mostly made out of polyester yarns, though some more expensive mattress may have a ticking made of wool, cotton, silk or other materials.
It tends to impact the quality of a bed as much as the quilt does and some people consider it to be a part of the quilt.
The middle upholstery is located directly below the quilt, and it will usually be made with foam or cotton batting, both of which can vary a lot in thickness and firmness across different mattresses or even just one mattress. This is what causes certain mattresses to feel firmer or softer than others.
The insulator or the insulation padding is located just below that, and its function is mostly protective. It is usually found in coil mattresses and helps prevent the coils from damaging the outer layer and pocking through them. It also stops you from feeling the coils while sleeping on the mattress.
However, this layer is sometimes also found in foam mattresses, especially if they have a harder base, and it helps the mattress feel softer and more comfortable than it otherwise would. This layer is mostly made from fiber, mesh or some type of foam.
If you want to avoid having pain problems while sleeping or other issues, you need to learn how to maintain your mattress. You want it to last as long as possible to get the most value out of it and as much pain relief as possible. The sooner a mattress fails, the sooner you'll start to feel pain while sleeping.
Here are some tips on properly maintaining your mattress so that it can last for a thousand and one night or even more.
Set the mattress on a good foundation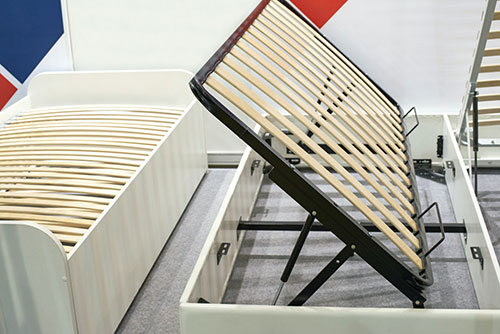 The mattress you bought might be sturdy, but if you don't set it on a good foundation it will last longer regardless. Thick, wood foundations and bed frames are usually the best, but most mattress companies have a list of recommended foundations for their product and some even sell them. Above all, make sure that the center of the mattress is properly supported.
Regularly replace, wash and clean the sheets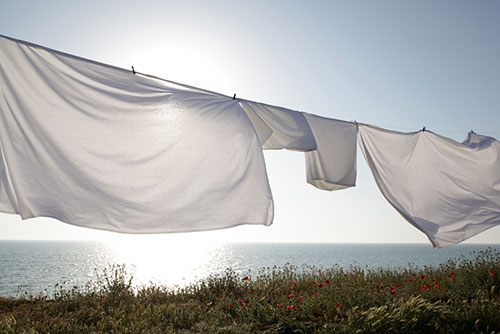 This is one of the essentials, and it should be done at least once a week, if not more. If dead skin and dust build up, you'll most likely end up with a dust mite or bed bug infection. This can make sleep quite uncomfortable, and they will wear down your mattress by nesting in it.
Vacuum your mattress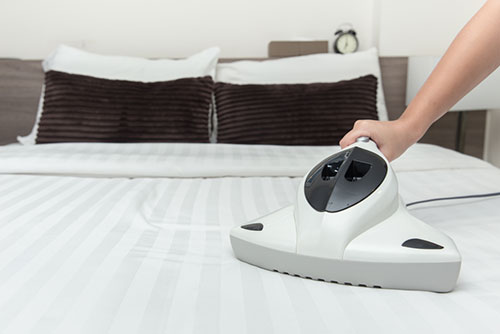 Another great preventive measure is vacuuming. This will help get rid of all the excess dust, stopping dust mites infections and keeping your new sheets clean for a longer time. Use the upholstery attachment for vacuuming. Be thorough and clean all the nooks and crevices as well as the underside f the mattress.
Keep your mattress dry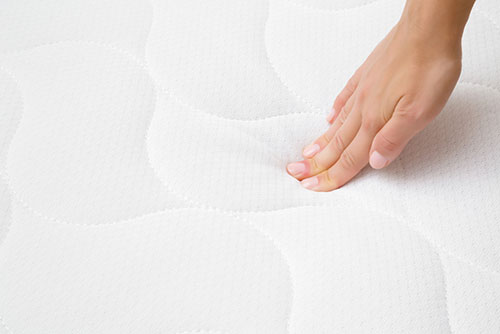 If your mattress constantly absorbs moisture, it is more likely to develop mildew or mold. Buying a mattress cover and placing it on it before covering it with sheets will help. You should also avoid putting wet sheets on it or lying on it while wet or sweaty. If you wash your mattress, dry it with a fan or your AC before placing it back on the bed.
Regularly flip your mattresses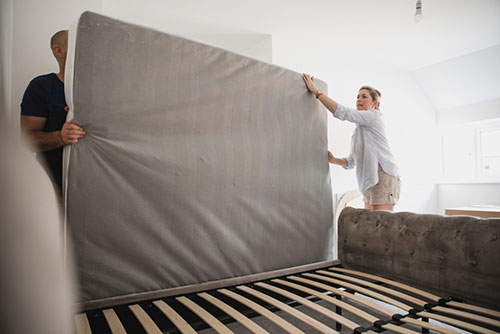 Most mattresses these days are two-sided, and you should flip them at least once every three months. Sleeping in a mattress for a long time leaves an impression, no matter how sturdy it is. Flipping it over lets one side recover while you use the other side. If you do this regularly, your mattress won't start sagging as quickly as it otherwise would have.
Remove stains promptly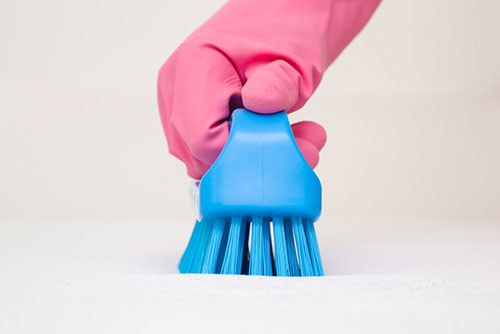 Try to remove most stains as soon as they happen and don't let them linger. Unless you do this, permanent damage may be done to your mattress. Things like blood or urine stains can be especially damaging if not dealt with straight away.
No bouncing
Bouncing on a bed is a kid's favorite activity, but some adults might also be tempted. Your mattress is for sleeping, so try to keep it that way. Any unnecessary pressure is bound to shorten its lifespan or ruin it altogether.
If you're taking care of your mattress properly, it should last for quite a while and remain able to support your body and keep you pain-free.
How to Find the Right Mattress for You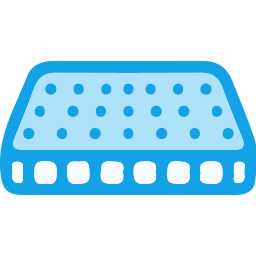 When you're buying a new mattress, there's a lot you need to consider, and it can be a tough choice. After all, mattresses cost a ton of money and when you buy one you want it to last for years. If you buy the wrong mattress, it could have disastrous effects on your health, including sleepless nights, back pain, hip pain, muscle pain and more.
In this section I'll try to answer all the important questions about buying a new mattress, starting from when you should do it to how you should go about it and what to avoid. Let's get straight into it!
The first thing you need to consider when you want to buy a new mattress is – do you even need a new mattress at all?
If you're having back pain problems, for example, you might think your mattress is the problem, and you decide to get a new one. But then, as it turns out, the back pain problems persist and you realize you threw out a perfectly good mattress for no reason. Sometimes the problem might be your sleeping position or even the bed frame.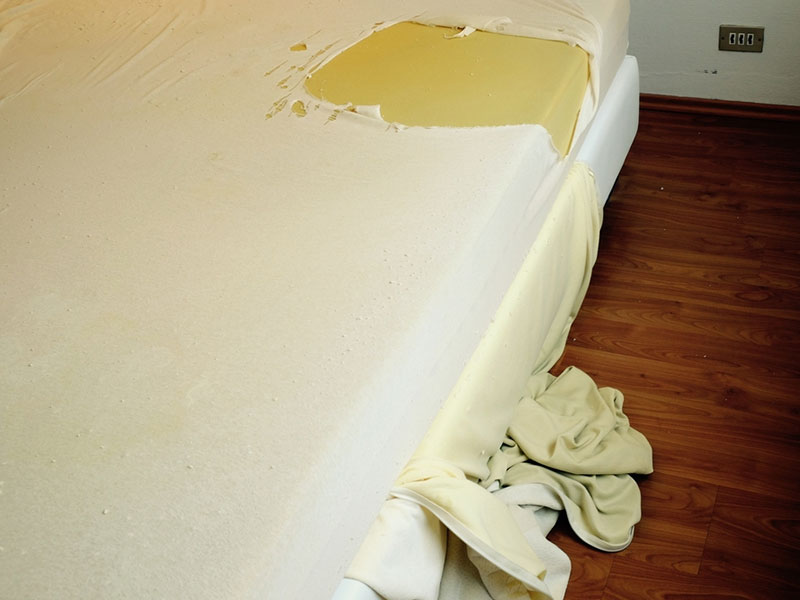 At the same time, you also shouldn't wait too long to replace your mattress. If you don't notice the warning signs in time, your occasional back and hip pain might turn into chronic pain, and your spine might even become misaligned. You also run the risk of incurring one of the many medical conditions that result from a lack of quality sleep.
To avoid all of that, I'll tell you all about the most important signs that your mattress is done for and needs to be replaced.
It's Old

One of the first things to consider is the age of your mattress. Over a certain age every mattress, no matter how durable, will not be good for use. After around 8 or 9 years of regular use, a mattress should be replaced. It might hold out for a few more years if it's a guest-room mattress and is not in regular use, but even then you should replace it if it's more than 12 years old.

Pain and Stiffness

Another telltale sign that a mattress needs replacing is the feeling you have after sleeping on it. If you're constantly getting new pains, if you're waking up stiff and not rested, and you're sure nothing else is to blame, your mattress should be replaced. You're probably tossing and turning in your sleep, trying to find a comfortable position that just doesn't exist. The comfort layer has most likely deteriorated beyond repair, and the heaviest parts of your body are sagging into the mattress.

Sagging

If you feel like you're sleeping in a hammock when you're in your bed, or if you see a noticeable impression and a sagging spot on the mattress itself, it's probably time to replace it. This most often occurs on spring mattresses but is also possible on foam ones as well. A good test for foam mattresses is seeing how long it takes them to get back into their original form after you get up. If it's more than 30 seconds, you're probably going to need to replace it.

You're Getting Older

After the age of 40, people tend to be more sensitive to pressure points on a mattress. Because of this, older people should replace their mattresses more often, around once every 5 to 6 years.

Lumps

While sagging is bad, lumps in your mattress may be even worse. It means that the content inside the comfort layer has spilled out and is out of place. This will impact your sleep, might cause back pain and it will just get worse and worse as time goes on.

Tears

In case there's a spring poking out, or your mattress has large and noticeable tears, it's probably time to replace it. The tears will only get worse in time, as will the quality of your sleep. Trying to fix such tears is usually futile, so it's best to get a new mattress in that case.

Bed Bugs

These nasty, blood-sucking critters are difficult to get rid of. If they've made your mattress their home, it might be time to replace it. If you don't know what to look for, just look carefully at all sides of your mattress – if you see little white, brown or red insects, that's them. You could use a magnifying glass to make your search easier. In case you're experiencing red itchy spots on your skin after sleeping, you should check for bed bugs straight away and replace your mattress if you have them.

Dust Mites and Mold

If your allergies are getting worse even after you've cleaned your mattress regularly, you might have dust mites or mold on it. It's difficult to check for this, but if your mattress smells bad it might be a sign of mold – on the other hand, large black spots are a sure sign of mold.

Persistent Stains

Sometimes, no matter how well you clean your mattress, some stains refuse to come out. If your mattress has a lot of these old, persistent stains and it's impossible to clean them, you will probably have to buy a new mattress. Even if you're still sleeping well on this one, the stains can cause health problems for you and attract other hazards like molds, dust mites or bed bugs.
If one or more of these symptoms are present, it might be time to put your old mattress to sleep and get yourself a brand new one. In the next section, I'll discuss what you need to look for when you're ready to take that step.
When you walk into a mattress store, or even when you're just browsing mattresses online, you might have trouble finding the right one straight away. The amount of choice is overwhelming, and the mattress market has expanded significantly in the last few years.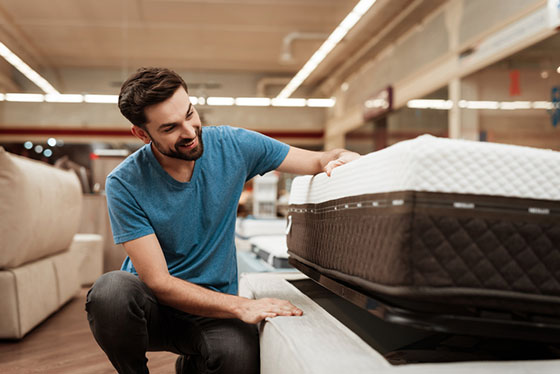 Lots of manufacturers like to tout features that aren't as useful as they might seem at first. Here I'll tell you what's important and at the end, I'll give you some tips on some common misconceptions and what you need to avoid. Let's dive into it all.
Does it Support You Properly?
One of the most important things you need to consider when purchasing a mattress is its supportiveness. This is the key to making sure a mattress fits you well and makes your body comfortable and pain-free.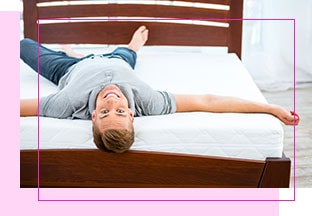 If you buy a mattress that doesn't support your body properly, you'll start having back pain and hip pain almost instantly and you'll notice sagging sooner rather than later.
Even if you get a mattress that's supportive enough overall but does not provide the specific type of support that you need, it might be a problem. If you're having chronic back pain, for example, you might need a mattress that supports your whole body and lets your spine align properly. Mattresses with this comfort layers will be able to offer you that.
On the other hand, if you're having hip pain, you might need a mattress that focuses more on supporting the center of your body. You might be able to tolerate some sagging in other parts as long as your hip has the best support possible.
Be aware that support is not the same as comfort. A mattress that supports you properly might not feel comfortable and vice-versa.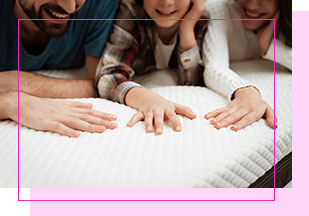 This is especially true if you spent years sleeping on a mattress that supported you poorly. Once you get a mattress that does support you properly, you might start experiencing more pain initially, instead of less. However, after a while, your spine and bones will realign to their natural position, and you'll get the long-term pain relief you've been looking for.
Checking how supportive a mattress is can prove to be difficult, though. The type of mattress can be an indicator – for example, encased coil mattresses are more supportive than open coil mattresses on average – but that's not much to go on.
Firmness is also a decent indication of support – the firmer a mattress is, the more supportive it is, in general.
You should also check the experiences of other people who bought the mattress, especially those who also experience pain while sleeping. It's something you can check on your phone while in the shop and it could help a lot.
Check How Durable It is
Another incredibly important thing when it comes to mattresses is their durability. If you want a mattress that will keep you pain-free for years to come you need to buy one that will last. Low-quality mattresses will degrade fast and, even if they helped with your back pain at first, they'll soon stop helping you and start causing the pain.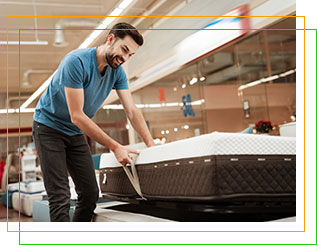 But, how do you know if a mattress is durable without trying it out? It's difficult but possible.
The type of mattress matters, for one. Latex mattresses will last longer than foam ones, for example, while hybrids will have a shorter lifespan overall.
That's not all you can go on, though. You can also check the stitching on the quilt and see if the seams are splitting a bit already. Try rocking it a bit and see if you feel that something's loose in there – it might be a sign of shoddy construction.
Also, while it's not always the case, more expensive mattresses are usually more durable than cheaper ones.
As always, you should also make sure to check the experiences of other users before buying the mattress you want. Even if it seems great, it might be poorly made, and the best way to tell is to see what the people who've used it for a while have to say.
Consider the Thickness
The thickness of a mattress is another important aspect to consider, and it can vary wildly, from as low as 5 inches to as high as 15 inches or more. Still, most mattresses are somewhere between 8 and 12 inches thick.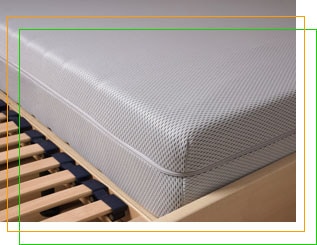 Why is this important? Well, a certain mattress might be supportive enough for a person weighing 100 pounds, it might not be for someone weighing 200 pounds. The thicker the mattress is, the more weight it can handle and is thus better for heavier people in terms of pain relief and comfort.
Conversely, thicker mattresses might feel uncomfortable and hard to lighter people, since they won't sink into them as much. This might also impede their conforming ability, and they won't bring you the pain relief you're looking for, In that case, you should opt for a thinner mattress that will suit you better.
If you're wondering how to check the thickness of the mattress, you can usually find out what it is by just asking a salesperson or checking the product info.
Of course, two mattresses of the same thickness will not perform the same if they are made out of different materials. Foam mattresses might be a bit less firm-feeling than coil mattresses, even if they're thicker overall, for example. In some types of mattresses, the thickness is not much of a factor at all, like in waterbeds. It all depends on what you're buying and what you need.
Is It Firm or Soft Enough?
This is one of the most important aspects of a mattress when it comes to pain relief. The firmness of a mattress will impact you greatly while sleeping and might make your nighttime pains worse or better.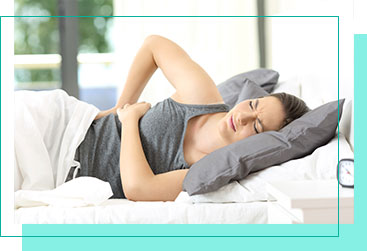 If the mattress is not firm enough for you, you might sink into the mattress too much, and your spine will become misaligned, causing back pain. On the opposite end of the spectrum, if the mattress is too firm, you'll feel like you're sleeping on a slab of concrete and your body will feel like you're doing just that. You have to make sure you get it just right to avoid getting your spine in a twist.
That's exactly why the firmness scale exists. It's by no means uniform, but it roughly grades all mattresses on a 1to 10 scale, based on firmness and is fairly consistent. So, if you find that a mattress with a firmness rating of 8 fits you the best you'll probably feel good every time you buy a mattress with that rating.
Of course, firmness is subjective, but there are some overall guidelines that this scale was based on.
Mattresses that have a medium firmness feeling and fit most people are usually in the 5 to 7 part of the scale. Those that feel softer to most people will land somewhere from 3 to 5 on the scale, and you'll sink up to 3 inches into them. Those that feel harder will be around 7 to 9 on the scale and you'll barely even sink into them – 1 inch at most.

The firmness you need also depends on the type of problems you may have and your sleeping position. For example, side sleepers will typically need softer mattresses while back sleepers will need firmer ones. Also, the heavier you are, the firmer your mattress needs to be.
Plenty of mattress companies will follow this scale and offer some of their mattress designs in a few versions of different firmness. Make sure to find out what fits you, possibly by trying out a mattress through a trial, and then buy a mattress that's firm enough for you.
Don't Forget the Comfort Factor
With all this talk about firmness and support, you'd almost forget that a mattress needs to be comfortable. While a comfortable mattress is not necessarily what'll bring you pain relief, it certainly does help with making you happier while you're trying to fall asleep.
Comfort is more than just a lack of pain while sleeping – that's something any mattress should provide. No, comfort is a mix of various factors that make you feel nice while you're lying on your mattress at night.
Here are some of the factors that make a mattress comfortable: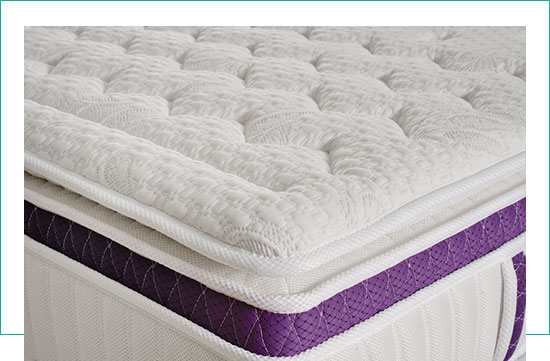 1
Contouring
This is the way that the mattress conforms to your body. Some mattresses will hug you tightly, while others won't. If you're having back pain problems getting a mattress that sticks to your body shape especially important since it will help align your spine. If you tend to sleep hot, however, you might want a mattress that lets your skin breathe a little bit more. Push on a mattress with your hand and see how well it conforms to its shape to check this.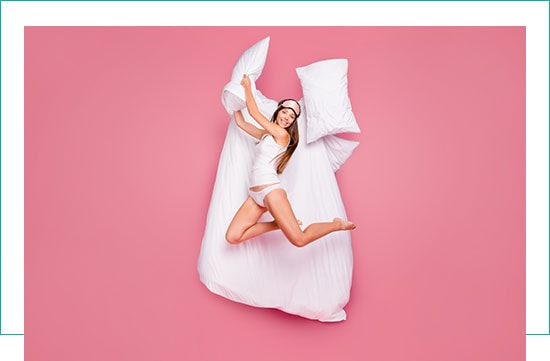 2
Motion Isolation
This is especially important if you're not sleeping alone. Moving during sleep or getting up at night should rock the whole bed and wake up your partner. Mattresses that have as little motion transfer as possible will let you get up at night without waking up your significant other and vice-versa.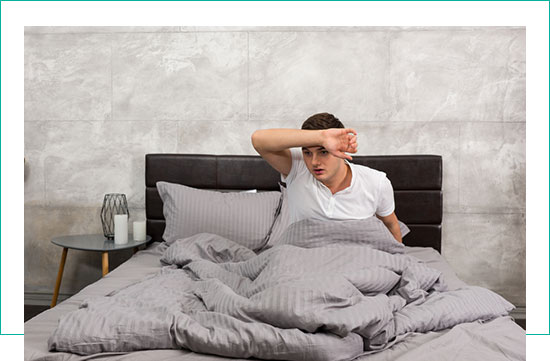 3
Breathability
Do you have problems sweating during sleep and waking up completely wet? Well, then your mattress might not be breathable enough. If the materials don't allow for enough air circulation, you'll sweat a lot, and the mattress will make you feel uncomfortable, especially during the summer months.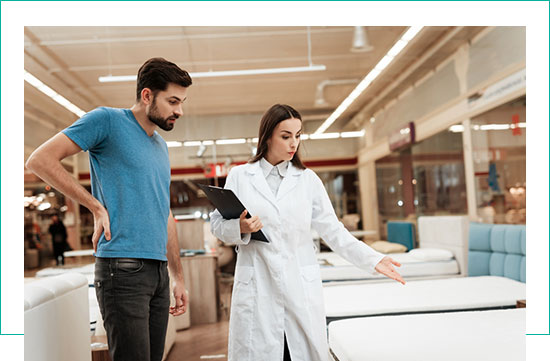 4
Edge Support
Another feature that's important if you're sleeping with a partner or if you're tossing and turning a lot. If the edges of your mattress are not supportive enough, it's quite possible that you'll fall off the side. If you sit on the edge of a mattress and you feel yourself slipping off, it doesn't have proper edge support.
There's more to comfort, and each person might have their own idea of what comfort is, including the odor of the mattress, the feel of the material, the sound it makes when you lie down on it, and so on. It's all up to you, but you should certainly check some of these things before you make your final decision.
You might hear a lot of mattress facts from places on the web or from friends who are 'in the know', and that advice can be good – but it can also be complete nonsense. There are a lot of myths and unfounded rumors about mattresses flying about and believing some of them can be harmful to your body and the quality of your sleep.
So, in this section, I'll focus on some of those myths and why they're not true.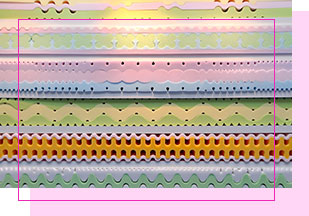 Denser foam = a harder mattress
This is just completely wrong. The denseness of foam has barely anything to do with the hardness. The denser the foam is, the heavier it is per one cubic meter, and that's it. However, some manufacturers will advertise the denseness of their foam mattress relying on the fact that customers will mistake that for hardness or firmness.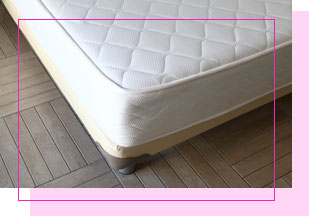 You should always flip your mattress
For two-sided mattresses, flipping them regularly helps with the wear and tear. However, most modern mattresses are one-sided and flipping them won't work. Check to see if you can flip your mattress before you do it.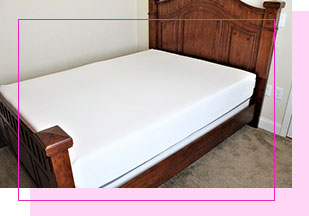 Harder mattresses offer better back support
Again, this is a false equivalence that manufacturers perpetuate. Hard mattresses won't help with your back pain unless you can also sink into them enough without falling through them so they can support the natural curve of your spine. Sleeping on something as hard as rock won't fix your back pain – it will exacerbate it.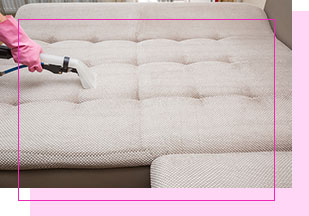 Cleaning mattresses ruins them
This is an old myth, but an extremely persistent and harmful one. It exists because it used to be true – old mattresses were quite fragile. Today, however, all mattresses can withstand a vacuum cleaner, and most can withstand steam cleaning.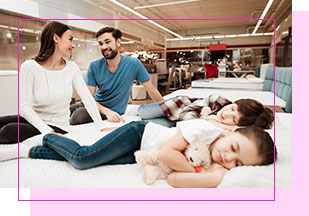 Lying on a mattress in the store is the perfect test
No it isn't. It might feel comfy when you lie down on it in your regular clothes for a few minutes but that's not what you'll be doing with it, and that doesn't tell you if it will help with your pain. It's far from the perfect test.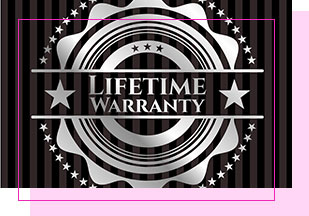 Lifetime warranties are always the best
The length of the warranty is not all that's important. You should always read the fine print and see what the warranty covers and under what conditions. Some warranties, for example, will be invalid if you clean your mattress or wash the topper provided with it. They might also cover only certain kinds of damage.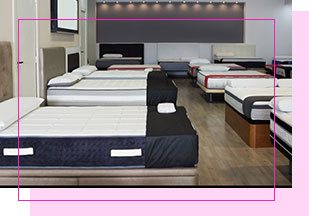 If you buy a 'one-size-fits-all' mattress, you won't have to worry
This is false because there's no such thing and no two people are the same. A universal mattress does not exist, no matter what some companies may claim. It's just a way for them to cut costs and sell to the widest market at the same time. Avoid mattresses that say they can fit everyone.
The Best Types of Mattresses for Pain Relief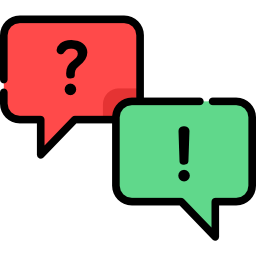 It seems like these days lots of people suffer from back pain or joint pain caused by bad sleep and bad mattresses. Well, it might only seem that way because people today can complain about it and know the cause of the pain – it has been like that forever.
Today, however, mattress technology is the best it's ever been, and you can easily find a mattress to help with your pain problems – you just need to know what to look for. It doesn't matter if your pain was caused by bad sleeping or it comes from an unrelated condition – there's a solution for everyone.
In this section, I'll tell you what types of mattresses you need to get to relieve specific types of pain.
Back pain is one of the most common types of pain caused by sleeping on a bad mattress. It happens due to bad support which brings your spine out of alignment.
The most common way this happens is when you sleep on your back, and your mattress only supports your shoulders and hip, but not the middle of your back. Since your spine is naturally curved, this is usually the case when your mattress is too hard and doesn't conform to your body shape.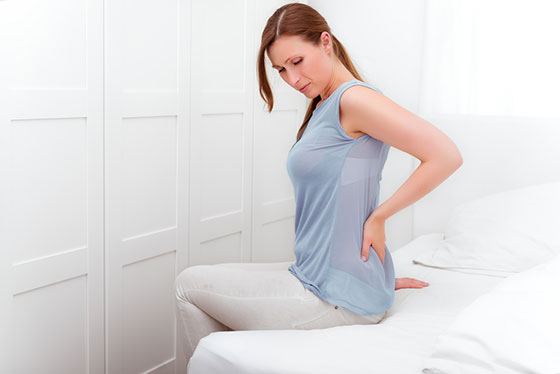 Because of this, most of the pressure of your body weight falls on that unsupported part of your back, and you start having back pains that persist even when you're not sleeping as your spine becomes misaligned.
This can lead to all sorts of dangerous conditions, including slipped or ruptured discs, joint inflammations, scoliosis, lordosis, kyphosis, or even vertebra fractures.
If you notice the problem on time, you can fix it, and all you need to do is buy a mattress that will help relieve the pain and adjust your spine to its natural position.
Here's what to look for in a mattress for back pain relief:

It should be firm but soft, able to contour to your body shape. Medium firm mattresses that fall at around 5 to 7 on the firmness scale are ideal. Memory foam is usually the best type of material for this.

Consider your weight and adjust accordingly. If you weigh more than 200 pounds, you might want to get something one point higher on the firmness scale than what we recommended here.

If you're sleeping on your side, you'll need a softer mattress than if you sleep on your back, closer to a 4 or 5.

For stomach sleepers, you'll need a firmer mattress, closer to an 8 on the scale.

Get a mattress that offers a sleep trial so you can return it if it's not helping you with your problem. 100 day should be more than enough time to try out a mattress.

If you share a bed with someone, consider getting a separate mattress or a mattress with dual firmness.
If you follow all of these guidelines, you should be able to get a good mattress that will help with your back pain. It might not completely relieve it, but it will certainly make you feel better.
The next most common pain associated with sleeping is hip pain, especially in older people, but it's not uncommon in adults in general. Millions of people in the USA alone complain of chronic hip pain. There can be a lot of causes for hip pain, but bad sleeping positions and poor mattresses are one of the leading causes of hip pain and also make preexisting pain worse.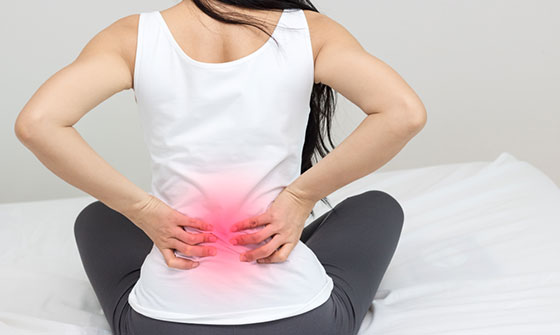 Among other things, chronic hip pain can be related to fractures, pinched nerves, arthritis, osteoporosis, joint inflammation and more.
Your sleeping position and the support you receive in that position is greatly important. When you're sleeping on your side in particular, the spine can be poorly supported, and spine misalignment can lead to increased pressure on the hip bones or pinched nerves and, thus, chronic pain. It's even worse for heavier stomach sleepers who sink deeply into the mattress.
The best type of mattress for relieving hip pain should be:
Highly supportive in the middle and firm, especially if you're sleeping on your side.
The mattress needs to be soft enough to hug your body and allow your spine to align properly, but not so soft that you sink deeply into it.
Memory foam mattresses are good at conforming to your body shape and don't start sagging quickly. Latex is even better and probably ideal for people with hip pain.
When you get a mattress that fits all those criteria you should be able to find some significant pain relief in your hip and your lower back.
The feeling of tension in your neck and shoulders that sometimes turns into outright pain is a common occurrence these days. One of the main reasons for that is the sedentary lifestyle of most people – sitting in front of the computer, the TV and so on. Sleeping on a poor mattress only exacerbates this.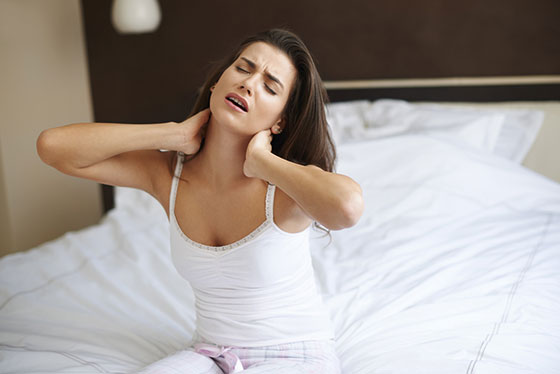 Your spine being poorly supported during sleep is a common cause of neck and shoulder pain, as is a poor sleeping position, like sleeping on your stomach.
Correcting your posture while sitting and walking during the day helps, but you spend a third of the day in bed, and it's much more difficult to change your sleeping position since you're not conscious. However, getting a good mattress can help with that as well as with the shoulder and neck pain.
For people experiencing neck and shoulder pain, here's the type of mattress that you should get:
A firm mattress that can properly support your whole back – sleeping on your back is the best position for dealing with this type of pain.
Pillow top mattresses are also a good choice, especially if you're sleeping on your side. They will conform to your body and provide you with a lot of comfort as well as a place to rest your head.
If you're a side sleeper, you'll need a softer mattress than if you're sleeping on your back, probably around 5 to 7 on the firmness scale or less.
Memory foam, latex and hybrid mattresses are all good for dealing with shoulder and neck pain.
Of course, this won't get rid of the problem on its own. Fixing your sitting and standing posture during the day is also important for dealing with pain in your neck and shoulders, don't forget that.
Leg pain and especially nighttime cramps are something that's not uncommon but is more sinister than you might think. Most people don't necessarily associate it with their sleeping position or their mattress and usually attribute it to their daytime activities.
However, your mattress quality does influence your legs as does your sleeping position and that could be the cause of the cramps that keep you awake during the night.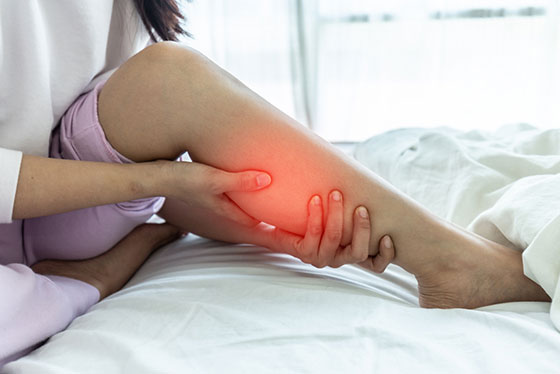 The pain in your legs could be localized to one area or appear throughout, though it most often occurs in the feet, ankles, calves and knees. The causes can range from tendonitis to pinched nerves, micro-fractures, shin splints, muscle tears and more. Your diet might also be contributing to it.
But, your sleeping position affects your legs more than you know. Side sleeping is quite common, especially in the fetal position, and that affects your legs greatly. One of your legs is under a lot more pressure, and your knees remain bent for hours on end.
Luckily, there are mattresses that can help with this:
The mattress you need to get to help with leg pain should be soft enough that it can cushion your sore muscles and joints. It needs to be softer than average, usually around 4 to 5 on the firmness scale, especially if you're a lighter individual.
Hybrid mattresses are some of the best for this since they can cushion your legs while still providing enough support for your spine.
Larger mattresses where you can spread out your legs instead of sleeping all balled up will also help, especially if you're currently sleeping on a tiny mattress.
Getting the right mattress is just one part of the solution, though. Try to stretch out your legs more and consider changing your sleeping position.
Pain in the joints during sleep is something that is thought to affect older people the most, but it is more common than you might think and can be caused by a bad mattress. This can lead to joint inflammation and arthritis, even if you're relatively young.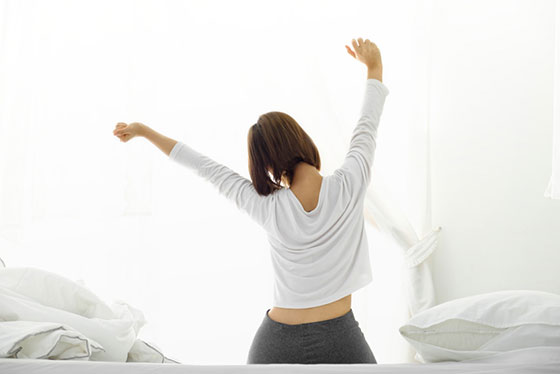 To help prevent that, you have to get the right mattress and here are some criteria you should consider:
Get a mattress that's large enough to accommodate you. Join pain can be caused and exacerbated by sleeping in awkward, scrunched-up positions. You should have more than enough space to move around.
Avoid mattresses that are too soft – they will cushion you too much, and you won't be able to move around during sleep. Get something that's around 6 to 8 on the firmness scale, depending on your weight.
If you're buying a foam mattress, buy one that consists more of support foam and has a thinner comfort foam layer. This will help provide the support you need.
Hybrid mattresses are a good choice since they will provide ample support while still being comfortable but firm. They aren't as durable as other types, but they will help with your condition.
Remember to visit your doctor if you were having persistent joint pains even when you got a mattress that should help you with them.
The Best Types of Mattresses for Certain Sleeping Positions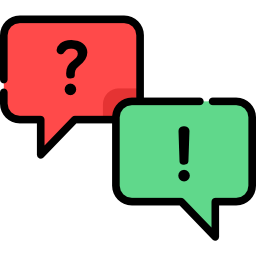 Your sleeping position will greatly affect your choice of mattress, and it's one of the reasons why there can't be just one mattress that fits everyone.
Of course, you can change your sleeping position if you want to but it's a long and arduous process. It's much easier to just get a mattress that will fit your sleeping position. By doing that, you'll save yourself a lot of hassle, and you'll improve your sleep quality immensely.
The most common sleeping positions are: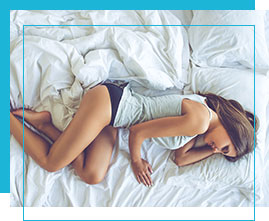 Side sleeping
This is the most common sleeping position and one of the best since it prevents snoring and helps with sleep apnea. It's also great during pregnancy and helps with blood circulation. Unfortunately, it can put a lot of pressure on one side of your body and quite a lot of strain on your neck and shoulders.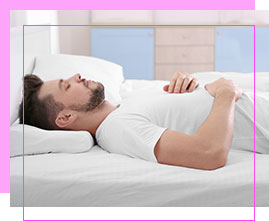 Back sleeping
This is the next most common position and one of the best positions for your spine, your back, neck and shoulders, provided that you have an adequate mattress. It also helps with joint pains and similar problems. Unfortunately, it exacerbates breathing issues like sleep apnea and snoring, and it can be detrimental to gastrointestinal issues.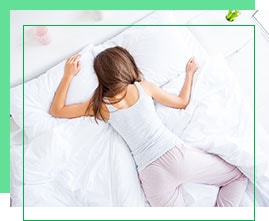 Stomach sleeping
While this position can ease snoring and help a bit with sleep apnea, it's generally one of the worst positions. It's bad for the spine, the muscles, your face, your nerves – if you can change this bad habit.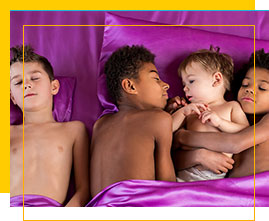 Combination sleeping
Not a position per se, but it's something a lot of people do – constantly changing positions during sleeping. The effects of this largely depend on the person and how much time they spend in each position. However, it can make you feel quite tired even after sleeping a lot.
Now I'll go a bit more in-depth on what types of mattresses are the best for people sleeping in certain positions.
Side sleeping is the most popular sleeping position, and it is one of the best. There are a few different versions of it, including the fetal position, the yearner and the log, but all share almost the same benefits and downsides. The fetal position is by far the most popular as 40% of side sleepers tend to sleep in that position.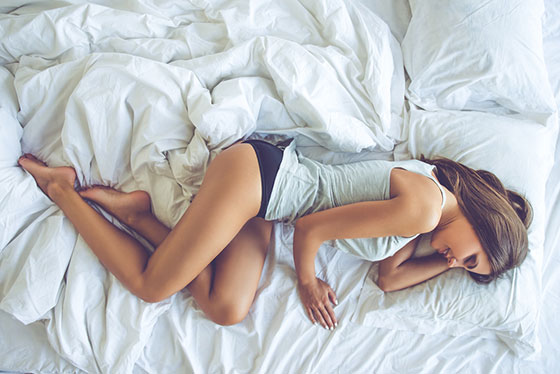 The benefits of sleeping on your side include:
Naturally aligned spine
Reduced acid reflux
Beneficial for sleep apnea
Reduced snoring
But, there are some downsides as well:
Increased pressure on one side of the body
Possible neck and shoulder pains
Can make arthritis worse
Can cause numbness in limbs and pinched nerves
However, most of those downsides can be mitigated by finding the right mattress for a side sleeper. If you follow a few simple guidelines, you should be able to find the right type of mattress for you without a problem.
Here are some things you should keep in mind to find the best mattress for side sleeping:
As in most cases, firmness is the most important part. For most people sleeping on their side, a mattress that ranks from 4 to 6 on the firmness scale will be good enough, but you might want to go for 7 or 8 if you weigh over 200 pounds, or 4 or 3 if you weigh less than 130 pounds.
You want a mattress that can contour to your body shape and thus keep your spine aligned. If you sink too deep or too little, it won't feel good.
Mattresses made out of memory foam and latex foam are especially good for side sleepers. Hybrid mattresses are also good. Mattresses with a relatively thin comfort layer are also preferred since they won't allow for too much sinkage.
If you're sleeping on your side, you probably won't need a lot of space, so it's good to buy a smaller mattress and save some money that way. It won't hurt your sleep quality too much.
Besides that, stick to everything else you know about mattress purchasing, and you should be able to get yourself a good product.
Less than 10% of adults sleep in this position, but it's still the second most popular position. It comes in many different forms, including the starfish position, the soldier, savsana and more. All of these positions are perfectly valid and carry most of the same benefits and pitfalls.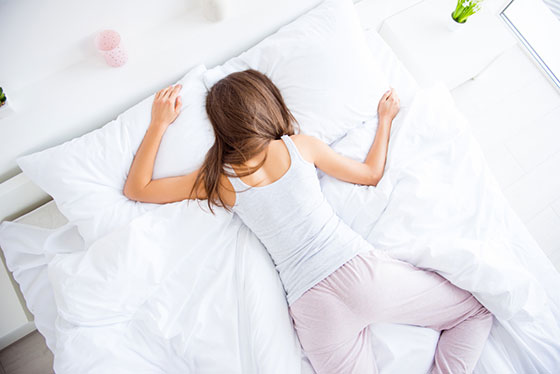 What's good about sleeping on your back:
Less pressure on the neck and shoulder, if sleeping without a pillow
Better for your face
Easier to keep the spine aligned
The bad side of back sleeping:
Larger chance of snoring
Worsening of sleep apnea
Problems with acid reflux
Can be uncomfortable
There are some misconceptions about the best mattresses for back sleepers, including the one that getting an incredibly firm and hard mattress is the best choice. So, I'll give you some general guidelines for finding the best mattress for back sleepers:
Find a mattress with a flat surface that will conform well to your body shape, in order to support your spine properly. If your midsection is not supported, your spine will be misaligned.
The firmness of the mattress should be around 5 to 6 on the scale if you weigh less than 200 pounds. If you're heavier than 200, try a firmness of 7 or 8. However, if you weigh less than 130 pounds, try a firmness of 3 or 4.
The mattress should provide the most support around the middle, where the center of your body mass is.
You don't need a comfort layer that's too thick – 2 to 3 inches will do.
Get a mattress that gives you enough space, especially if you like to spread out your arms and legs.
And that's about it. Mattresses of almost any material will be fine, though hybrid mattresses probably work the best. In the end, it's up to you to decide.
This is generally agreed upon as the worst sleeping position and for a good reason – it barely has any benefits, but it has a lot of notable downsides. Sleeping on your back can cause a load of problems with back pain, hip pain, stomach pain, breathing and so on. If you're a stomach sleeper, you might want to look into changing your sleeping position.
The one notable benefit of sleeping on your stomach:
A reduced chance of snoring
On the other hand, there are tons of downsides:
Non-existent spine support
Neck strain
More wrinkles
Puts a lot of pressure on the stomach
There's more, but you get the point. You should probably switch up your sleeping position for the sake of your health. However, if you're still deciding to stick with stomach sleeping despite all the negatives, I'll give you some tips on finding the best mattress for stomach sleeping so you can reduce those downsides to a minimum.
For stomach sleepers, here are a few tips about finding the best mattress:
Get a mattress with a thin comfort layer, preferably no more than 2 inches thick.
You will need a firmer mattress than most, even if you're light, to prevent the hyperextension of your lumbar area. Get a mattress that's a 7 or 8 on the firmness scale.
The mattress shouldn't conform too much to your body shape, so your stomach doesn't sink into it and causes your spine to bend unnaturally.
Innerspring mattresses are probably the best choice since they're among the firmest and they don't conform to the body shape of the sleeper too much.
Overall, that's all you need to know. If you get a good mattress for your sleeping position, even stomach sleeping can become tolerable, though it's still a bad habit.
"Combination sleeping" is a term used to refer to a sleeping pattern where the sleeper doesn't stay in any one position for too long, constantly tossing and turning through the night. This is not necessarily bad, but it can be a bit exhausting for some. It can be natural but also a result of discomfort or a pre-existing condition.
For combination sleepers, the ideal mattress is difficult to find, especially since most of them don't sleep the same way. Some might stay in certain positions longer than others, and that's nothing something you can easily notice.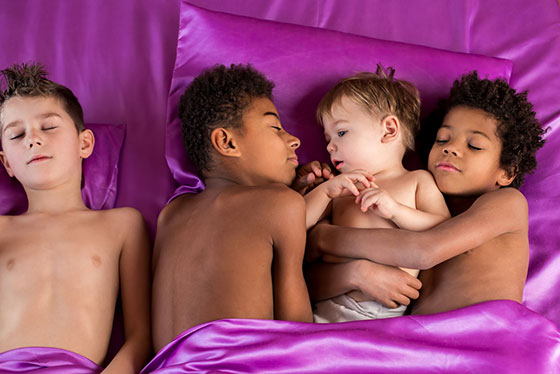 However, here's a set of guidelines that should help you get the best mattress possible if you're a combination sleeper:
Find a mattress with ample support – it should be able to support you in all possible sleeping positions, but you should focus on finding one that fits your preferred starter position, the one you take when you're trying to fall asleep.
You need to get a larger mattress than usual and one with good edge support. It will help you move around more freely and stop you from falling off the bed.
If you're sleeping with a partner, you also need to make sure that the mattress you get has good motion inhibition. Combination sleepers tend to wake up their partners a lot.
Latex mattresses are probably the best fit for combination sleepers, though foam mattresses also do a good job of providing everything that's needed.
Medium firm mattresses between 4 and 7 on the firmness scale are the best fit for most combination sleepers.
With that, you should be able to find a decent mattress for yourself if you are a combination sleeper. Since it is so difficult to find the right mattress when you're sleeping in multiple positions, you might have to shop around a bit before you find the best one. Don't hesitate to try out mattresses with 100-day trials until you find one that fits well.
The Different Types of Mattresses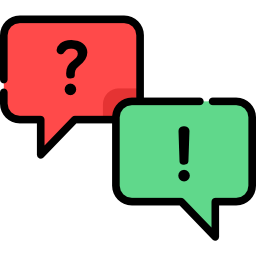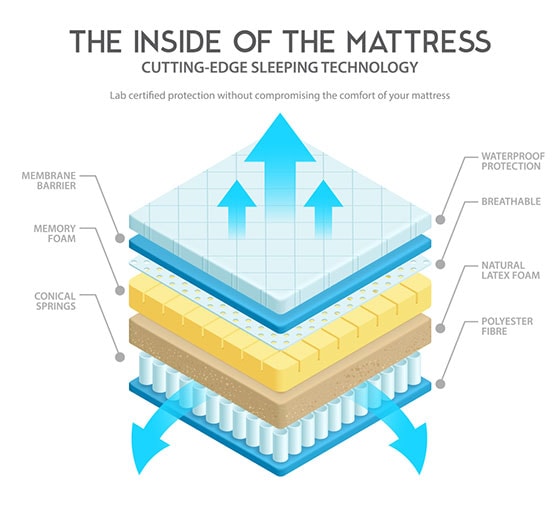 | Mattress Type | Durability | Support | Pain Relief | Contouring | Temperature Control | Price |
| --- | --- | --- | --- | --- | --- | --- |
| Innerspring (Bonnel Coil) | 4 to 5 years | 6/10 | 5/10 | 5/10 | 8/10 | Extremely Low |
| Innerspring (Offset Coil) | 6 to 7 years | 8/10 | 6/10 | 5/10 | 8/10 | Medium to High |
| Innerspring (Continuous Coil) | 7 to 8 years | 8/10 | 3/10 | 2/10 | 8/10 | Medium to High |
| Innerspring (Pocketed Coil) | 3 to 4 years | 7/10 | 7/10 | 7/10 | 7/10 | High |
| Memory Foam | 7 to 8 years | 7/10 | 7/10 | 8/10 | 3/10 | Low to Medium |
| Open Cell Foam | 7 to 9 years | 7/10 | 7/10 | 8/10 | 8/10 | Medium |
| Gel Foam | 7 to 9 years | 7/10 | 7/10 | 8/10 | 9/10 | Medium |
| Latex Foam | 8 to 10 years | 8/10 | 9/10 | 8/10 | 9/10 | Extremely High |
| Polyurethane Foam | 2 to 4 years | 6/10 | 5/10 | 6/10 | 6/10 | Extremely low |
| Convoluted Foam | 6 to 7 years | 8/10 | 7/10 | 6/10 | 8/10 | Extremely low |
| Foam/Spring Hybrid | 5 to 7 years | Varies greatly | Varies greatly | Varies greatly | Varies greatly | Medium to High |
| Futon | 2 to 3 years | 4/10 | 4/10 | 3/10 | 4/10 | Extremely low |
| Pillow Top Mattress | 4 to 9 years | 8/10 | 7/10 | 7/10 | 7/10 | High |
| Air Mattress | 8 to 10 years | 7/10 | 8/10 | 7/10 | 9/10 | High |
| Water Bed | 10 to 15 years | 1/10 | 7/10 | 10/10 | 10/10 | Extremely High |
Innerspring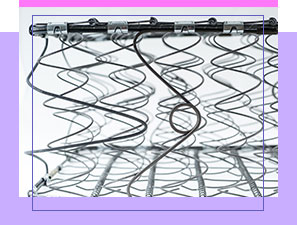 Innerspring mattresses are considered the traditional choice these days, even though they're fairly modern in the grand scheme of things. They were invented in the 19th century, adapted from buggy seats.
These mattresses commonly consist of a core, filled with coiled springs that serve to provide the support and are surrounded by a comfort layer. The gauge of the coils is what determines how supportive and firm the mattress is. The number of coils used also helps influence these aspects, but it also influences the durability, contouring ability and the cost of the mattress.
The coils are usually connected by a string frame, which helps retain the shape of the mattress, but that is not always the case, as you'll see.
Since their invention, innerspring mattresses have been a staple of the mattress industry, and despite the widespread popularity of foam these days you can still find them in great numbers. This is because the innerspring design is not obsolete by any means and does have some benefits over foam.
Here are some of the benefits of innerspring mattresses:
Affordable
Great breathability
Good bounciness
Huge model variety
The design is not perfect, though, and there are some downsides too:
Less durable and easily sags
Bad motion isolation
Poor contouring
Noisiness
Broken springs can be dangerous
While the design is not perfect, there's a reason it's still in such wide use, and for some people, in particular, innerspring mattresses are the best choice. If you need an extremely firm mattress that does not conform to the shape of your body, innersprings are the way to go. Stomach sleepers and heavier people are the people who should be buying innerspring mattresses first and foremost – as well as people on a budget.
Bonnell Coil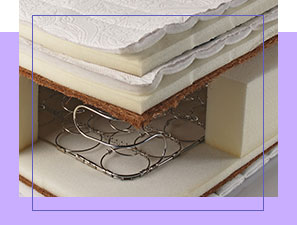 This is the first and oldest type of coil design, the one that was originally invented over a hundred years ago and is still in use today. It is also the cheapest form of innerspring mattresses.
The coils in these mattresses have an hourglass-like shape and are reinforced with helicals – thick, spiral wire made to handle high compression levels. This makes them quite durable but also cheap. The coils are connected as well, making them subject to heavy motion transfer.
Overall, this is a good, cheap option but it's not the best when it comes to innerspring mattresses.
Offset Coil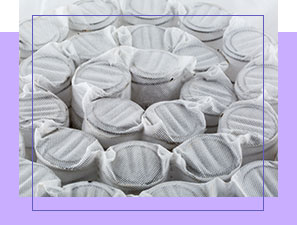 These coils look similar to Bonnell coils on the surface, bearing an hourglass-like shape and being reinforced with helicals. However, when the mattress is compressed, they create a hinging effect, offering more support.
Double offset coils also exist – they're straight on the bottom and top, offering better support and firmness. Free arm offset coils, on the other hand, work the same as normal offset coils but are not interconnected, offering better motion isolation.
These types of innerspring mattresses are more durable and thus more expensive than average.
Continuous Coil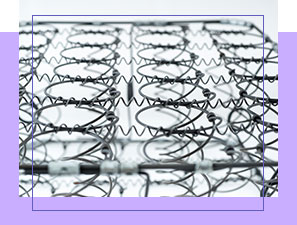 As the name implies, this is a mattress with coils made from one single line of wire which forms the entire support system. The coils here are in an S-shape and made to create a hinging effect like those of offset coils.
This makes the coils and the structure of the bed incredibly resilient to damage, easily turning this into one of the most durable innerspring mattresses. However, this is at the expense of the contouring ability of these mattresses. If the combination suits you, though, it turns into a benefit – this is true for stomach sleepers.
Pocketed Coil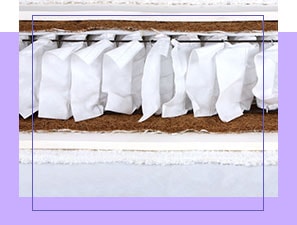 These are also called Marshall coils or encased coils. In this kind of mattress, all the coils are completely individual and are wrapped in pockets of cloth, hence the name.
This makes the mattress far better at isolation motion than most other innerspring mattresses, so it's ideal for couples. It also gives it some of the best contouring ability out of all innerspring mattresses, easily rivaling a foam mattress.
Something has to give, though, and these mattresses have quite a short lifespan due to the coils being completely separate from each other.
Foam
In recent decades, foam mattresses have become incredibly popular, and they're still gaining more and more popularity. The reason for this is simple – their design is effective and overall more efficient at providing comfort and pain relief than innerspring mattresses. They're also more durable overall.
The only thing holding back these mattresses was the high cost when compared to innerspring mattresses, but that has also been changing in recent years. These days, lots of affordable but high-quality foam mattresses are available.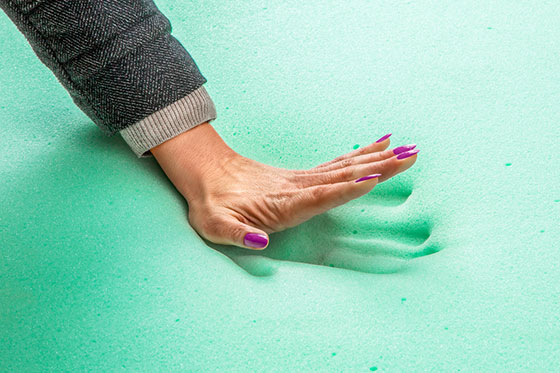 The foam in these mattresses is usually made out of open cells, allowing for air circulation and can soften in reaction to body heat, allowing it to easily conform to your body shape. This is why it's so good at providing proper support for people with back pain problems.
Since their inception, many different types of foam have been used for foam mattresses, many with radically different properties. In this section, I'll go through some of the major types and the benefits and downsides that they offer.
Memory Foam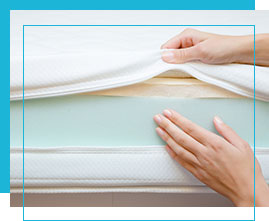 Memory foam was made by NASA during the 60's and subsequently used in medicine and sports before finally moving to the public domain and being used in mattresses. It didn't take off until the 90's due to high manufacturing costs, but when it did it skyrocketed.
The name comes from its ability to conform to the shape of whatever presses on it and then return to its original shape afterwards.
While other derivatives and other types of foam have been developed over the years, the original is still in use. This is because it's among the cheapest types of foam to make and it works well. It offers support and contouring, pain-relief from back and join-related condition and provides better circulation.
However, the original also retains heat quite well, making it bad for those who sleep hot or live in hotter regions. It's also less durable than some other, more modern foams.
Open Cell Memory Foam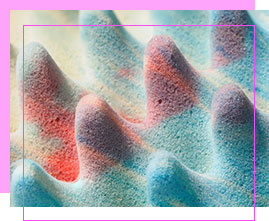 This type of memory foam was designed specifically to counteract the heat retention problem. It does that by being made of interconnected open cells, allowing for the flow of air through the mattress, making it significantly more breathable. It also returns to its original shape faster than regular memory foam.
On most other fronts, however, it performs almost the same as regular memory foam. It's also a bit more durable overall, but not too much.
Gel Foam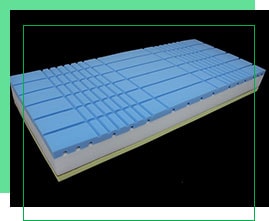 This type of foam is usually infused into memory foam and works to dissipate heat, thus allowing you to sleep cooler. This is achieved with tiny gel beads that create an open cell structure that's much looser and good at promoting air flow than open cell memory foam. However, that's not the only benefit it provides.
It is also a bit more flexible and durable than regular or open cell memory foam. It's still best suited for people who sleep hot and those that live in hot areas.
Latex Foam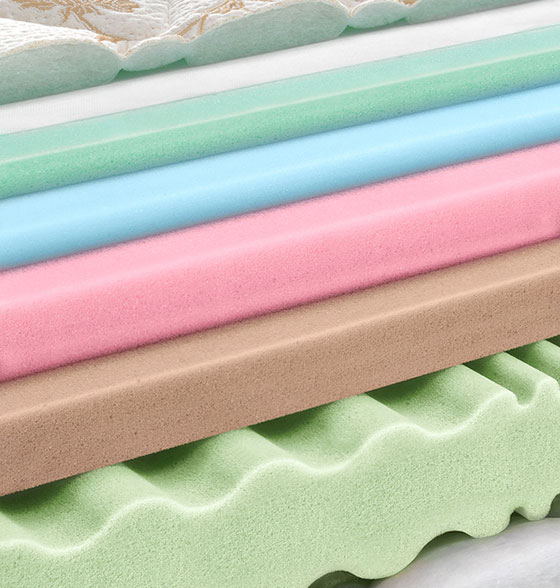 Unlike other types of foam, latex foam is derived from a natural material, latex – made from the sap of certain trees. It is the most eco-friendly type of foam out there, and there are two distinctly different types of it – Dulop and Talalay.
Dunlop Latex Foam

This type of latex foam is made by mixing the sap with sulfur and zinc oxide, which is then whipped up until the foam is created. The mold in which the mixture is poured contains heated rods which push into the body of the mixture and eliminate air pockets.

Once the mold is sealed, it is put into a vulcanization oven where the latex hardens. The foam is washed after that to remove excess materials, then dried and delivered.
This results in dense foam that's not too bouncy and a bit cheaper.

Talalay Latex Foam

The difference in the process starts when the foam is poured into the mold, which is not filled completely. Vacuum pumps then remove the air which causes the foam to expand to fill the mold. While this is happening, CO2 is forced through the foam resulting in a gel-like structure. The gel is then heated to 220 degrees F, which causes the vulcanization process to take place. Then the foam is washed and dried.
The final result is a foam that's not as dense but a lot bouncier and slightly more expensive
Regardless of which of the two types you choose, latex foam tends to be bouncier and more flexible than most other foams, overall. It also lasts longer and won't start sagging quickly due to its elasticity. It's great for heavier people as well as young couples who want a bouncy mattress for some physical activity on the bed.
Polyurethane Foam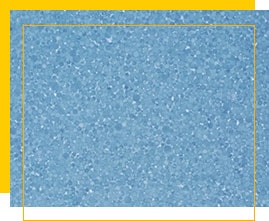 Commonly called "poly foam" or even just "poly", this type of foam is usually found in mattresses that are simply referred to as foam mattresses, without any other distinction.
This foam is manufactured using urethane as the base, a common polymer in paints, plastics and more. This is what makes this type of foam dense and inexpensive, so it's usually used in other mattresses too, as the base foam upon which the comfort layer is placed.
Mattresses made completely out of this foam are cheap as dirt, but they tend to smell a lot, and they start losing their form incredibly quickly. They won't last for too long, and they'll start sagging in no time. You get what you pay for, essentially.
Convoluted Foam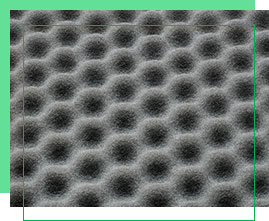 This type of foam is also known as 'egg crate foam' due to its distinctive shape that resembles an egg crate. This type of foam is mostly found in mattress toppers though it can also be found in mattresses.
The main benefit it offers is better weight distribution, which results in better supportiveness overall. It is also great at dispersing heat and doesn't cost a lot.
There are some issues with it, the main one being the shape which might be uncomfortable to some and it can gather a lot of dust and dirt.
Hybrid
Hybrid mattresses are those made with two or more different types of materials. They usually have a base made out of one material and a comfort layer made out of a mix of a few different materials.
These mattresses aim to give you the best of both worlds. Sometimes, that is successful, and other times it's not, but that depends on specific products.
Overall, it's a good bet that hybrid mattresses will be cheaper than mattresses made out of one of the materials used would be. However, there are some complex and expensive hybrids out there. Some can be particularly strange, like a mattress with a spring base and a comfort layer filled with air.
In this section, I'll only discuss some of the most prominent types of hybrid mattresses on the market right now and what they offer, so stay with me.
Foam/Spring Hybrids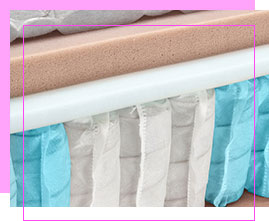 When people think of hybrid mattresses, this is the first type that pops into their mind. A lot of websites will simply have this type of hybrid mattresses listed as only 'hybrid' without any further distinction.
These hybrids usually combine an innerspring base with a foam-based comfort layer, thus giving you the best of both worlds – in theory, at least. The foam layer will usually consist of three or even more separate layers of foam, usually memory foam or latex foam.
The best thing about these hybrids is that most people can get exactly what you want. There are certain combinations of levels of comfort, support and firmness that can't be found in pure innerspring or foam mattresses. Luckily, these can most likely be achieved in hybrids like these and if you're looking for something extremely specific, shop around for hybrids.
Futons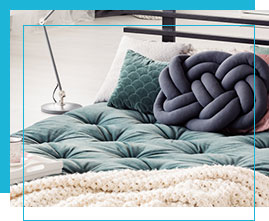 This is a type of mattress that's more famous in Japan than anywhere else, but can also be bought in other countries. These mattresses are typically small, meant to be used standalone or on things like sofa beds, and they can be easily rolled up and transported.
They're usually made from a wide variety of materials. One futon can contain cotton, foam and springs at the same time. There are many different combinations available out there, but the common thread between them is that it's a highly portable, smaller and inexpensive mattress.
For people in smaller apartments who don't want to get a full bed, this type of mattress can be a lifesaver. It's especially good for students living in cramped spaces.
Pillow Top Mattresses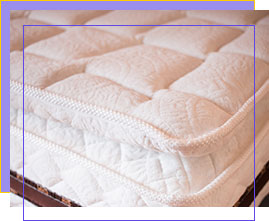 These mattresses have been popular in recent years, and there's a good reason for that – they're incredibly comfortable. They have an extra layer on the top that's made like a pillow or a thick mattress topper, hence the name.
The material used in the pillow top layer can vary, but depending on it the mattress can offer additional benefits that it otherwise couldn't, including better support, temperature control, additional bounce and more. The materials used are usually cotton, foam, latex or wool, though materials like silk have also been used.
The base of these mattresses can be either an innerspring mattress or a foam mattress, but the additional layer on top is what makes the difference here.
The main downside to these mattresses is their cost. That additional layer can also add a few thousand dollars to the price tag. They also might require special sheets, which further increases the cost.
For people who need extra comfort, like those with chronic pain, or for people who need some extra support like side sleepers, mattresses like this are ideal.
Air Mattresses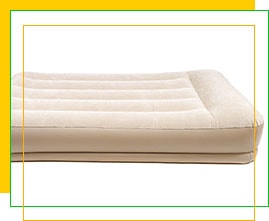 Most people still consider air mattresses and air beds to be a gimmick that's not even worth considering when mattress shopping. They're cheap, disposable and offer nothing close to the comfort of 'real' mattresses.
However, that's quite an outdated view of the matter. The stereotypes were true in the 90's, but these days air mattresses can offer the same or better quality than any other mattress while coming with some unique benefits that you can't find anywhere else.
They are usually encased with a comfort layer made out of foam, and some might have a pillow-top quilt as well. They can look and feel incredibly luxurious. The insides are made out of high-quality, puncture-proof vinyl and usually contain air coils – a rough equivalent to metal coils in an innerspring mattress – for extra support.
Some of these mattresses even use multiple layers of materials and multiple independent air chambers. They usually come with smart pumps that can inflate the mattress in seconds and practically eliminate the risk of it accidentally deflating during sleep. There's even more to it than that.
The unique benefits of air mattresses include:
Adjustable firmness
Easy portability
Less sagging over time
Doesn't require significant support structures
Almost no heat retention
It's not all cloud nine in air mattress land, however – there's some bad stuff about them too:
Can be punctured
Pumps are noisy
Shorter warranties
The constant need for inflating
These days, air mattresses are real contenders, and they can even be better than foam mattresses for some people. If you need to adjust the firmness or the support of a mattress, or even have different levels of firmness and support on two parts of it, this is the ideal solution. They're also ideal for people who need easily portable mattresses that won't lag behind their usual beds.
They're not just a cheap gimmick now – they're real mattresses.
Water Beds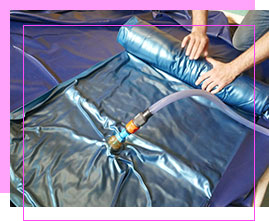 This is another previously novelty item that still carries an undeserved stigma. Waterbeds have evolved and become something completely different from the frat-house staples of old. These days they offer not only a unique experience but also supreme comfort and can compete with some of the best mattresses on the market.
Waterbeds today are made with multiple chambers instead of one, unlike the old water beds. This means that there are less 'waves' when you lie down and the waterbed settles quicker. Some even contain air chambers along with water chambers. Free-flow types with one chamber still exist, though.
They are usually made out of tough vinyl with layers of fiber in-between and on top. The outside can be made out of a wide variety of materials, including leather, rubber and more.
The main benefits of these beds include:
Greater comfort
Incredible pain relief due to lack of resistance
Form-fitting design
Easy cleaning and resistance to allergens
Water-heating for temperature control
However, even though the new-generation water beds are better than those of old, they are not flawless:
Leaks are still a problem
Sheets are difficult to find
Offers almost no support
Moving is difficult
Heating it can be costly
Maintaining a water bed on a regular basis can be even easier than maintaining a regular mattress as it can easily be cleaned with just a wet cloth, especially if the surface is made out of vinyl. However, the problems that possible leaks may incur and the need to regularly empty and refill the bed can be quite a chore.
If you want to get a water bed, make sure you're ready for it and that you need it. It can be a great boon for pain relief but not if you need a lot of support. It's best for people with joint pains and people that need to lie down a lot since it nearly eliminates the possibility of bed sores.
These beds are something different entirely. Again, the adjustable beds that were advertised in infomercials are not representative of what beds like this are today. They've been called adjustable beds, automatic beds, smart beds, electronic beds, high-tech beds and more – their main upside is that they have a ton of features.
On the surface, most look like ordinary beds or like mattresses on thin wooden frames with legs. However, they're much more than that.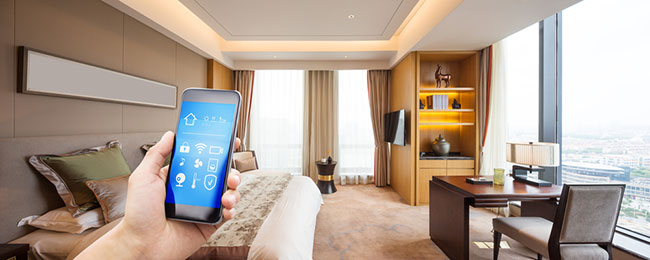 These beds can adjust their shape to your liking with the press of a button on the remote control. Some of them have massage programs built into them. Others have functions like cooling and heating, alarm clocks or night lights. Some of them even have USB ports for charging your devices or playing music through in-built speakers. It's everything you've dreamed of and more.
Of course, that's also what makes these beds incredibly expensive. They are also still an emerging market, so the designs are far from perfect at the moment, and they tend to malfunction in unexpected ways.
Still, if you want something different and you want the luxury, these types of beds offer, go for it. They can also be good for people with special physical needs, and the automatic adjustment of the headrest and the footrest are the features that come most in handy.
Knowing which mattress size to get can be difficult, especially if you don't know the actual sizes. There are many different classifications, and even they differ by country. In this section, I'll try to answer all of your dilemmas about all the different mattress sizes out there and guide you through all of them one by one.

| Name | US Size (inches) | UK Size (inches) | Australian Size (inches) |
| --- | --- | --- | --- |
| Large Emperor | N/A | 85 x 85 | N/A |
| Emperor | N/A | 79 x 80 | N/A |
| Super King (Grand King or Athletic King) | 80 x 98 | 71 x 79 | 80 x 80 |
| California King (Western King or Long King) | 72 x 84 | N/A | 72 x 84 |
| King (Eastern King) | 76 x 80 | 60 x 78 | 72 x 80 |
| Olympic Queen | 66 x 80 | N/A | N/A |
| Short Queen | 60 x 75 | N/A | N/A |
| Queen | 60 x 80 | N/A | 60 x 80 |
| Small Double (Three-Quarter) | 48 x 75 | 48 x 75 | N/A |
| Long Double (Double XL) | 53 x 80 | 54 x 78 | N/A |
| Double (Full) | 53 x 75 | 53 x 75 | 54 x 74 |
| Twin XL | 38 x 80 | 36 x 78 | 36 x 80 |
| Twin (Single) | 38 x 75 | 35 x 75 | 36 x 74 |
| Crib (Cot or Small Single) | 27 x 52 to 30 x 75 | 24 x 75 | 27 x 52 |
Crib (Cot or Small Single)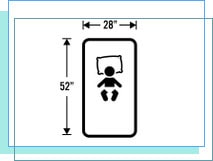 These mattresses are made for the little ones, the babies and toddlers in their cribs. The size is usually somewhere around 27 by 52 inches.
You might be tempted to get a nice, soft mattress for your little ones, but that's not the case. Babies and toddlers need to sleep on a solid surface, so their face doesn't sink into the mattress if the flip over onto their stomach. Both foam mattresses and innerspring ones will do, though obviously it's less likely that they will sink in an innerspring one.
Twin (Single)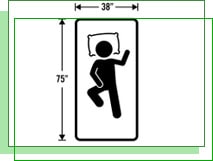 This is the smallest mattress size available for a regular-sized mattress in most countries. It is usually around 38 by 75 inches.
They are usually meant to be used for kids rather than for adults. This is what you'll probably buy after your child has outgrown their crib bed. You'll also find these mattresses used in bunk beds or in cheap motels.
For adults, a mattress like this can cause pain regardless of their sleeping position, simply due to the lack of space. Sleeping on it occasionally is fine, though.
Twin XL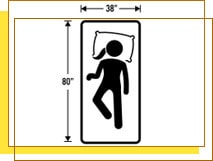 Twin XL or twin extra long is usually the same width as the equivalent twin mattress, but a few inches longer. It can also be called Long Single in some areas. It usually measures up at around 38 by 80 inches.
This is the mattress of choice for taller children or adults who are trying to save up on space by using a small mattress that is still long enough to accommodate them. You'll also find that it's common in high school and college dormitories.
Sleeping on a mattress of this size can be uncomfortable for adults and cause back pain, especially for back sleepers. It's much better for side sleepers since they don't need that much horizontal space.
Double (Full)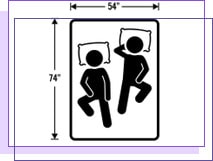 This is the standard mattress size for single sleepers, and it offers plenty of room for one person, measuring up at 53 by 75 inches – much wider than the twin mattress. Couples will sometimes use these if they're trying to save some money, but it's not recommended as it only gives each person the space equivalent to a crib mattress. This can easily cause back and hip pain issues.
Most mattresses of this size are a good compromise between cost and size – they are affordable, but they still offer plenty of space for one person. It's perfect for people who are just moving out of their parent's house.
Long Double (Double XL)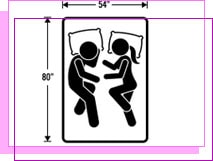 These mattresses are a slight upgrade over the full/double mattress size, being equal in width but offering more length. Their size tends to be around 53 by 80 inches. For taller people who are satisfied with the size of a double mattress but need a bit more length, it's ideal.
They also tend to cost almost the same as double mattresses, also making them a great budget choice.
Small Double (Three-Quarter)
For the people who are on a budget and don't need the size of a double mattress, this is the ideal option. It's a bit smaller, usually around 48 by 75 inches. It is still able to accommodate an adult person without a problem, just with a bit less horizontal space.
If you're a smaller person, you sleep on your side, or you don't change positions much, this might be the ideal mattress size for you.
Queen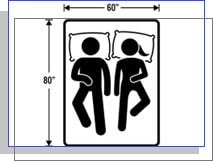 This is one of the most popular mattress sizes out there, especially for couples. The dimensions, roughly 60 x 80 inches in most cases, are the reason. That's just enough space for two people, it fits well even in smaller rooms and doesn't cost too much.
Due to the popularity of this size, it is also easy to find various bed accessories that can fit these mattresses, further increasing their popularity.
Short Queen
This is a smaller version of the queen mattress, measuring in at around 60 x 75 inches. It is usually a bit cheaper as well. It can be a good option for people who don't need the extra length but need the extra cash. It is also good if you want to save some space and you're not extra tall.
Olympic Queen
Also known as Super Queen or Expanded Queen, this mattress is slightly wider than the regular queen, giving just a little bit more individual space. It usually measures in at about 66 x 80 inches.
If you don't want to get a king, but you need more space, this is the best choice of mattress. It will also be much cheaper than a king mattress would be.
King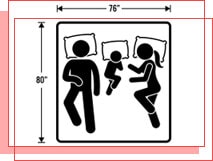 Mattresses of this size offer more than enough space for two people and can fit even three adults if need be. However, their size of 76 x 80 inches is perfect for two adults and one child – or just two adults that like to stretch out and toss and turn a lot.
This size makes them a bit more difficult to fit in certain rooms and move about, but if you've got the need for more sleeping space, it's worth buying a mattress of this size.
Be aware that if you're getting a mattress of this size outside of the USA or Canada, the size might be significantly smaller than what you're used to.
California King (Western King or Long King)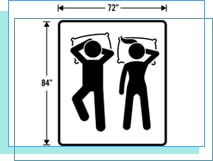 The most well-known variant of the king mattress, this size offers more vertical space at the expense of horizontal space. It is usually 72 x 84 inches and is ideal for taller people and still gives them enough horizontal space. It also might be worth considering if you can't fit the king mattress in a room that might fit a cal king inside it.
Overall, it's an option worth considering.
Super King (Grand King or Athletic King)
If you need something larger than a king, this will certainly fit the bill. With its size of 80 by 98 inches, it will be able to fit only in the largest of bedrooms and three or more people will be able to sleep on it. Of course, mattresses of this size can be incredibly expensive, and they're a luxury more than a necessity.
Be aware that the size of this type of mattress can vary greatly and outside the USA it is much smaller, despite bearing the same moniker.
Emperor
This is a Europe-only size, and it is smaller than the USA Super King but larger than the Europe Super King and larger than the USA king. It measures in at about 79 x 80 inches, and it can be a nice middle ground between those sizes.
Again, this is a luxury size that most people won't have any need for.
Large Emperor
Once more, this is a Europe-only size that is still smaller than the USA Super King but is close to it, being 85 x 85 inches in size. It is wider than the USA Super King but shorter, so it might be a good choice for those who can't fit the super king in their master bedroom.
Custom
Of course, if none of the standard sizes available fit your bed frame or bedroom, you might still be able to get what you need by ordering a custom-sized mattress for yourself. These can be incredibly expensive, but they might be worth it if you don't have any other option.
Be aware that not all manufacturers will be able to offer this option, so your choices might be limited to certain brands and mattress types.
But, before you opt for this option, you might want to check a list of special sizes that manufacturers offer. You might find your bed size there and save yourself some money.
Once you're ready you just need to measure your bed, find a mattress manufacturer you like and order from them. These days it can be as easy as entering the measurements in an online form and clicking a single button. If you need a mattress in an uncommon size, there's no reason to hesitate.
The Best Mattress Brands on the Market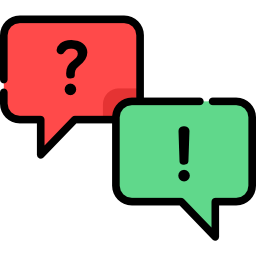 There's a reason people tend to find a brand they like and stick with it – for the most part; it's a good strategy. If you buy something from one of the best brands on the market, or at least one you know produces things you like, you're probably going to get what you want or something close to it.
However, if you're unfamiliar with all the different mattress brands on the market – and I wouldn't blame you, there are too many to count – I'm here to help you find the right one. In this section, I'll tell you a bit about how to recognize a good mattress brand and give you a rundown of some of the best brands right now.
Ask these questions, and you should be able to find a mattress brand that's good for you.
To help you out with your search for the right mattress, I've made a short list of some of the best mattress brands out there right now, along with some info about their products and business practices. It's all compiled in this comparison chart.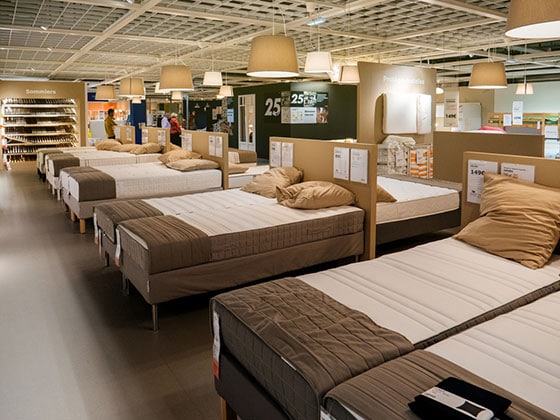 | Brand | Main Product | Pros | Cons | Warranty | Prices |
| --- | --- | --- | --- | --- | --- |
| Live and Sleep | The Live and Sleep Classic Mattress | High-quality, eco-friendly products | You can return a mattress only after 50 days pass | 20-year warranty | Low to Medium |
| Imagine Mattress | The Imagine Mattress | An incredibly comfortable mattress that fits most people | Only one available mattress model | 25-year warranty | Medium |
| Dynasty Mattress | Cool Breeze | A wide range of high-quality products that look amazing | Reports of inconsistent and sub-standard mattresses | 30-year limited warranty | Medium to High |
| Tuft & Needle | The Tuft and Needle | Mattress out of unique foam without most downsides of memory foam | No mattresses for heavier sleepers | 10-year limited warranty | Medium to High |
| DHP | DHP Sleep 6-inch Memory Mattress | Wide selection of products | Durability problems | 15-year limited warranty | Low to High |
| Purple | The Purple Mattress | Innovative mattress designs and high-quality products | High prices, poor edge support and dubious warranty | Limited warranty | High |
| Technogel | The Vive | Unique design with great temperature control and support | Extremely expensive | 10-year warranty, 20-year warranty if registered online | High to Extremely High |
| Leesa | The Leesa Mattress | Quality foam and innerspring mattresses with free shipping | Only one firmness option is available | 10-year warranty | Medium to High |
| Bed Boss | The Revolution Mattress | Wide selection of good memory foam mattresses | Issues with the durability of their mattresses | 10-year manufacturer warranty | Low to Medium |
| Casper Sleep | The Casper | Unique and well-made hybrid foam mattress | Limited line of products on offer | 10-year limited warranty | Medium to High |
Wrapping it Up
Whew, that was a long journey, wasn't it? But, in the end, I hope you got as much from this article as you hoped. Understanding all the different types of mattresses out there is key to getting quality sleep and buying the right products for pain relief and comfort.
If there is something I haven't mentioned, and there always is, please feel free to ask me about it in the comments. I'll answer as soon as I can.
In case you know someone else struggling with picking the right mattress or experiencing back pain or hip pain, please refer them to this article.
Until next time, I hope you sleep well and remain pain-free.