Getting the right type of massage from a portable massager can be difficult – handheld variants can only do so much, and they can't target large areas of your body. However, massage chairs are hardly portable even though they do a good job at massaging larger areas.
Well, the right solution, in that case, is a massage cushion! They come in a few different forms and sizes, all of them portable and able to massage a large area of your body. You can take them with you on a trip, to work, wherever you want. Take a look at some of the best massage cushions on the market today and see if they're just the thing you nee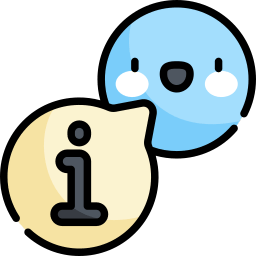 Massage Cushions – What They are and What They Do
If you're not exactly sure what massage cushions are and how they work – you've come to the right place. I'll try to explain that in as few words as possible.
These are electric massager
These are electric massager which most commonly use multiple massage nodes or a vibrating mechanism covered with fabric and padding – which acts as cushioning, hence the name.
They can come in various sizes, but you'll most commonly find them as throw-pillow-sized devices or as chair pads, though there are a few other variations out there as well, which I'll talk about later.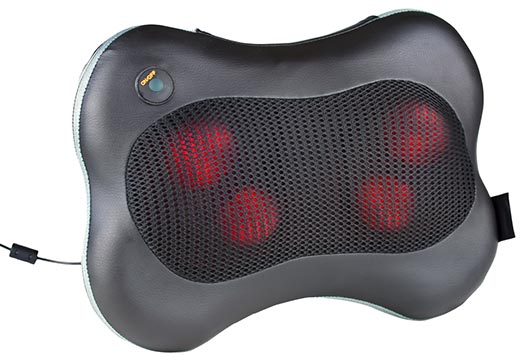 Some massage cushions have a cord, while others use batteries and they can have controls built into them or use wired or remote controllers. There are a lot of other features they can have, including heat, multiple massage modes and so on.
Most commonly, they're used for neck and back massages to help with back pain, though you can use them on other parts of the body since they're so small.
They offer better coverage and a stronger massage than various handheld massagers and are more comfortable, while still remaining portable.
They're mostly made for use while you're lying or sitting down and they can provide sufficiently strong massage therapy on their own, without the need to use supplementary devices.
Overall, they're a good choice if you mostly want to massage yourself at home but sometimes need a portable massager and if you want something stronger and more comfortable than a handheld massager but still not too expensive.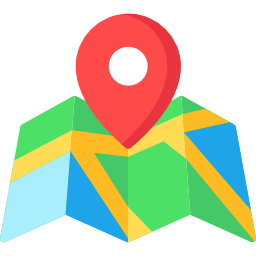 Where to Buy a Massage Cushion Near Me?
If you're looking for a massage cushion and you want it to be in your lap as soon as possible, this is the right question to ask. But, how to find the right shop?
Well, these days you don't have to aimlessly walk around the neighborhood to do that. You can just run a search for "massage cushion near me" or "massage cushion shop near me" maybe even "where to buy a massage cushion in my area," and you'll get exactly what you want.
But, since you're already here, why waste time? This map here will give you all that info straight away!
Here you can see all the shops that sell massage cushions close to you. By clicking on one you can see all the info on it, including their phone number, business hours, their website and so on. You can find the right shop and have your massage cushion in a matter of hours!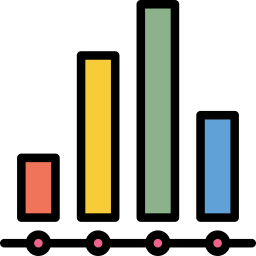 Comparing the Best Massage Cushions of 2021
If you don't have the time to read detailed reviews and just want to see how the best massage cushions in 2021 stack up against each other, I've got just the thing for you. Take a look at this chart and get all the relevant info in an easy and digestible way. In case you have the time to go into more details, check out the reviews below the chart.
PRODUCT
TYPE
MASSAGE STYLE
NODES
SIZE
Snailax Shiatsu SL-256 Massage Cushion

(Best Heating)

Massage Chair Pad
Shiatsu, Kneading, Vibrating
4
26.4 x 5.5 x 18.1 inches
Snailax AL233 Massage Cushion

(Editor's Pick)

Massage Chair Pad
Shiatsu, Rolling, Vibrating
8
14 x 31 x 17 inches
Zyllion Shiatsu Kneading Massage Pillow ZMA-13-BK
Massage Pillow
Shiatsu, Kneading
4
13 x 9.5 x 3.5 inches
SNAILAX Vibration Massage Seat Cushion

(Best Vibration Massager)

Massage Chair Pad
Vibration
0
42 x 18.5 x 1.4 inches
HoMedics, Quad Shiatsu Pro Massage Cushion

(The Most Customizable Massager)

Massage Chair Pad
Shiatsu, Percussion, Kneading, Rolling
4
29.3 x 17.7 x 7.6 inches
Homedics 3D Shiatsu & Vibration Massage Pillow with Heat

(The Most Comfortable Massage Pillow)

Massage Pillow
Shiatsu, Vibration
4
13.8 x 5.1 x 10.4 inches
Relaxzen 3D Mesh and PU Massage Lumbar Support Cushion

(Best Lumbar Massage Pillow)

Massage Pillow
Vibration
0
4.3 x 13.4 x 12.6 inches
Etekcity Shiatsu Back Neck Massager with 8 Heated Rollers
Massage Pillow
Shiatsu, Rolling, Kneading
8
13.3 x 4.3 x 8.6 inches
Viotek Air Comfort Massage Cushion

(Best Compression Massage Cushion)

Massage Chair Pad
Compression
0
19 x 18.5 x 22.5 inches
CINCOM Shiatsu Back Massager with Heat
Massage Pillow
Shiatsu
4
15.5 x 1.2 x 16.5 inches
yosager Cordless Rechargeable Shiatsu Shoulder Massager

(The Most Affordable Massage Cushion)

Massage Chair Pad
Vibration
0
19 x 16.1 x 28.3 inches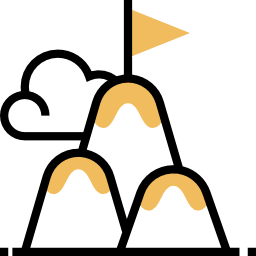 Top 11 Massage Cushions to Buy in 2021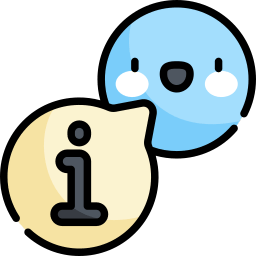 Massage Cushions – All of the Major Benefits
While massage cushions aren't as good as getting a massage from a real masseuse, they are far from useless. There are a lot of benefits that they can offer you, both large and small and here are some of the most important ones to consider.
1Pain Relief
One of the most common reasons for seeking a massage is for pain relief – and most people that do get a massage for that purpose, come back to have another one.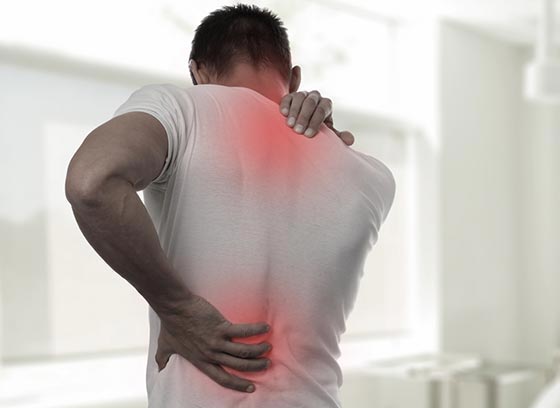 That's not just a coincidence or placebo since massages have been confirmed to reduce pain from various conditions, including neck pain, lower back pain, menstrual pain, postoperative pain, cancer-related pain, injury-related pain, chronic conditions like arthritis and so on.
While massage cushions can't deliver an experience that's exactly the same or as equally beneficial as a regular massage is, they're not far behind when it comes to the pain relief they offer.
This is achieved in a few different ways. Massaging can remove knots from your muscles and relieve the tension in them, thus reducing the pain felt from the constant strain they're under. This can also help release trapped nerves, which might be causing pain.
Massaging also improves blood circulation, allowing your tired and sore tissues it get more oxygen and nutrients, which helps them recover faster, reducing the pain you feel as a side-effect.
It's also been proven that massaging helps promote the release of certain chemicals in your body that make you feel good – endorphin, dopamine, serotonin, and oxytocin, among others. Some of them have proven analgesic effects stronger than morphine, and they help reduce the pain you're feeling.
There's more than just that, but these are all the major ways in which getting a massage helps reduce the pain you're feeling. These benefits increase even more if you regularly get a massage and the best way to do that is if you have a massager that you can use almost anywhere – which is just what a massage cushion is.
2Relaxation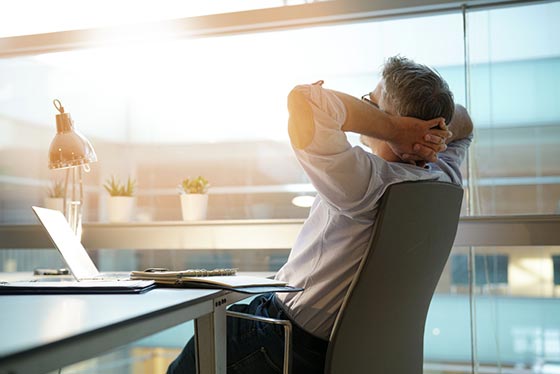 While pain relief is one of the top reasons why people get massages, relaxation is THE main reason for it. It's not strange, considering that the incredible relaxing effects of a massage have been long-proven. Even those that argue that massages don't do anything to help with pain relief wouldn't argue with the fact that a massage relaxes you.
However, the type of relaxation that a massage provides goes far deeper than what you would get from lying in your bed or lounging in your living room.
When you're getting a massage, your body starts releasing more neurotransmitters associated with happiness and good mood, like dopamine, serotonin, and endorphin. On the other hand, the production of chemicals like cortisol – the hormone associated with stress – is reduced.
Due to this, massages can help with depression, anxiety disorders, bipolar disorder, and similar conditions. By getting a massage at the same time every day, you'll be training your body to regularly feel good and relaxed at a certain time, allowing you to unwind more easily than ever. With a massage cushion that's easier to do than ever.
3Improved Circulation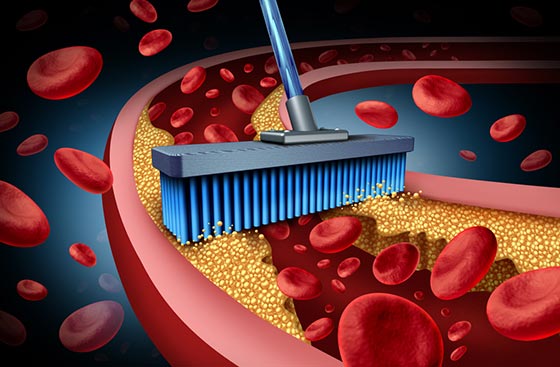 Massaging can expand your arteries, veins, and capillaries, leading to improved blood circulation. A massage achieves this either with heat, which expands the muscles and blood vessels or by resolving muscle knots which might keep your blood vessels pinched.
Improved blood flow can help you recover faster from injuries, infections and the like since your tissues will be receiving more oxygen and nutrients. It will also help you recover faster after exercise, for example.
This can also help prevent muscle atrophy from occurring when you're inactive due to an injury or illness and allow your muscles to get back in shape in less time. The lowered blood pressure can also have long-term beneficial effects on people suffering from hypertension.
However, the circulation of blood is not the only thing improved by the massage – the flow of fluids through the system of lymph nodes is also greatly impacted. When lymph fluid builds up due to injuries, infections, cancer, and other problems, manually draining the fluid with a massage can help a lot. It's called manual lymphatic drainage.
Stimulating the lymphatic flow can also help boost your immune system and reduce the amount of toxins in your body, making you feel better overall. It also helps when dealing with conditions like fibromyalgia, lymphedema, arthritis and so on.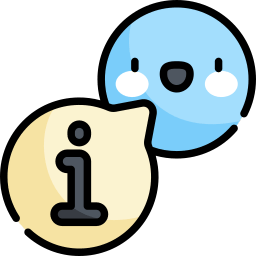 The Complete Buying Guide for Massage Cushions
Massage cushions are different from most other types of massagers and finding a good one can be a bit tricky, to say the least. I'll give you a few pointers on that which should help you pick the right one for you.
1Discover Your Type
Roughly speaking, there are only two different types of massage cushions. This should, in theory, make your choice easier but it's not as simple as it might seem at first glance.



Massage Pillows

You'll find these massage cushions all over the place. They're the size of throw pillows and can be used to massage various parts of your body, though most people usually use them to massage their neck and back. They most often use massage nodes or vibration pads.

These come in different subtypes suited for various body parts. There are massage pillows that are made for the back neck, while others are more curved and made to fit your lumbar region better. There are others yet that are intended for your legs or even your feet.




Massage Chair Pads

Shaped roughly like a chair, these pads are made to fit onto an office chair or a similar object, like a sofa or a car seat, and massage you while you're sitting on it. They're not meant to be used standalone, though they can be.

Most of them use massage nodes in combination with vibration pads and rollers. Sometimes, they also use airbags for compression massage. They come in various sizes and can massage your whole back, while some models also massage your neck, head, and even your thighs.




Massage Mats

It's difficult to say if these devices fall into the category of massage cushions – some people would say they're a category of their own. However, others do think they're massage cushions so I thought I might as well include them.

As you can probably guess, these are large mats that can be laid on the floor or on the bed and which have massagers built into them. Some are made only for massaging one side of your body while you're lying on them, while others have 'sleeves' for your arms and legs which massage them.
2Gauge the Shape and Size
Massage cushions come in many different sizes and shapes – picking the right one can be a bit difficult. However, if you use a few principles to guide you, you should be able to pick the one you need.
First things first – how large is the area you want to massage? If you want to massage your whole back, you'll probably need a large cushion, but if you just want to massage your neck, a smaller one will do.
Where do you want to use it? If you want to use it around the house, getting a larger one can be a good idea since it will be able to massage a larger area without being cumbersome. However, if you want to take it with you on trips, try to get one that will take up as little space as possible.
Do you need it for massaging a specific area or do you want it to be more versatile? Some massage cushions are shaped to fit a specific area, like your lumbar region, but that can make them less useful for other body parts. Others conform less to certain body parts but can be used for almost any part of your body.
There's a lot to consider so pick carefully.
3Which Styles of Massage Does it Offer?
There are many different massage styles out there, and massage cushions can offer a few different ones. Here are some of the most common ones and the benefits they can offer.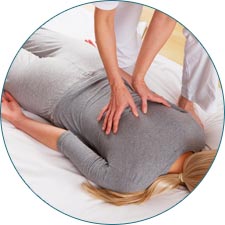 Shiatsu massage
This type of massage, originating in Japan, uses pin-point pressure along with heat to focus on pressure points. Massagers using this technique are the best at simulating the feeling you would get from a real massage. It's one of the best massage styles for stimulating your blood flow.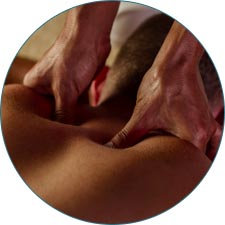 Deep tissue massage
If you want to reach the deeper layers of your muscles, this is what you want. It's one of the best things for helping you recover from injuries and can strengthen your muscles while providing more long-term pain relief.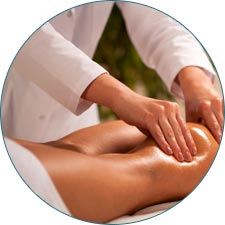 Kneading massage
Similar to kneading dough, this massage kneads your muscles and straightens them out. It's one of the best techniques for dealing with muscle knots and easing any tension you might feel.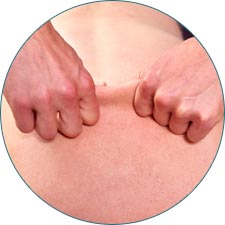 Rolling massage
Using rollers instead of nodes to pinch parts of your muscles and roll them around like a masseuse between their hands, this type of massage is the best for improving the flow of fluid through your lymph nodes.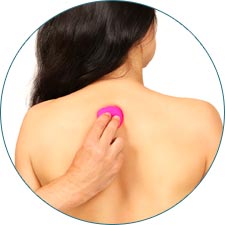 Vibration massage
Usually considered to be the weakest type of massage, it is not without its benefits. It is great for sensitive tissues and can be used even when stronger types of massage can't. It's also quite good for staving off muscle atrophy.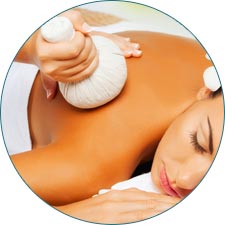 Compression massage
This type of massage usually uses air pressure with airbags that are inflated and deflated in order to simulate the pressure of a masseuse's hand on a large are of your body. It's great for increasing the blood flow in small blood vessels in your skin.
4Get the Functions You Need
There are many different features that massage cushions can have, despite their small size. Some are common and almost expected while others are quite unique but can be incredibly useful.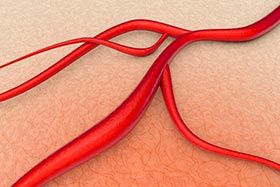 Heating
This is one of those functions that are almost expected for a massage cushion and basically all massagers that offer a Shiatsu massage. It is great for simulating the feeling of a real massage and helping to improve your blood flow by dilating your blood vessels.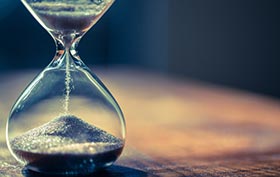 Timers and programs
These features allow you to stop the massage after a certain time. Some can even be programmed to switch between different massage styles at certain intervals, allowing for endless customizability.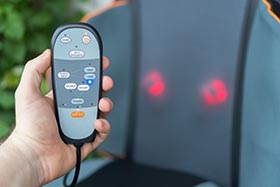 Memory
If you want to always use the same setting, some massagers will be able to memorize them, and you can just recall them with the press of a button — no need for fiddling around with settings every time.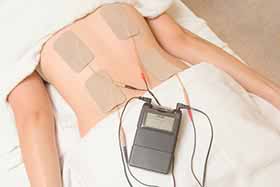 Some massage cushions will offer the options of electrotherapy in addition to massage. This can be an incredibly useful tool for pain relief, and it's definitely worth considering.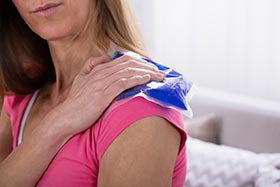 Cooling
There are massage cushion and chair pads which offer the option of cooling you rather than heating you. This can greatly benefit people who have injuries that can be exacerbated by heat and need a cold compress to treat them but can also benefit from a massage. It's not something you can get from a masseuse, for sure.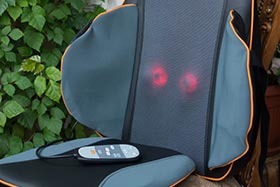 Remote control
Having a remote control to change the settings on your massager can be incredibly useful, especially if you're using it to massage your back, and you can't reach the controls that easily, or if you're at your desk and don't want to stop what you're doing and twist around to press a few buttons.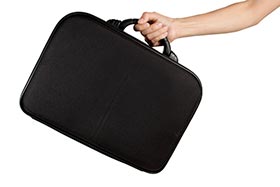 Carrying handles
This is a simple but useful feature, allowing you to transport larger massage cushions with ease.
5How to Clean Your Massage Cushion
Most people that have a massager of any kind struggle with finding a good way to clean them. There are plenty which choose to just not clean them at all – which is a bad idea since they can easily become a hotbed for bacteria, especially if more than one person uses them.
However, cleaning a massage cushion is easier than you might realize – you just need to have the right approach to it.
First make sure your massage cushion is turned off, unplugged and that it cooled off completely if you were using some sort of heat functionality that it has.
Next, take a mild detergent – mild dish soap or hand soap will do just fine – and mix in a few drops of it in a medium-sized container full of water. Avoid stronger detergents, especially those with acidic components since they can damage the upholstery and the mechanism of the massage cushion.
Take a clean cloth and dip it in water, then wring it out until it's only slightly damp. Use it to gently wipe down the parts of your massage cushion that were in direct contact with your body. Don't let water drip onto the cord, the controls or any other areas which might lead the water to get to the insides.
Once you're done with that, take another clean cloth, a dry one, and use it to wipe the massager until it's completely dry. You can also use that cloth to wipe any parts of the massager you couldn't wipe with the damp cloth.
This should be your regular cleaning routine at least once per week, though it is recommended to do this after every use, if possible.
If you happen to spill something on your massage cushion, you shouldn't worry too much. Just try to wipe it off with a dry, clean cloth as soon as possible. To avoid any stains you should wipe it down with some detergent after that, but try not to wipe too hard.
That's about all there is to it – see, it's not too hard.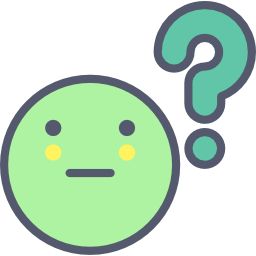 Massage Cushion FAQ
In Conclusion
I've talked about massage cushions a lot today, but even so I couldn't cover everything there is to know. Still, I hope what I could offer helped you at least a little bit.
Now, there's just one thing left – to tell you what I think is the best massage cushion available right now.
For me, it has to be the Snailax AL233 Massage Cushion due to its incredible reliability and tons of great functions. It's probably the best thing you can get right now when it comes to massage cushions.
However, I think that the HoMedics, Quad Shiatsu Pro Massage Cushion isn't trailing far behind, with its incredible ability to use multiple massage modes and great adjustability.
If you're looking to buy something on a budget, though, you should probably keep your eye on the yosager Cordless Rechargeable Shiatsu Shoulder Massager. While it's not a shiatsu massager, it has some great functions, and it's incredibly cheap for the quality on offer.
Tell me what you think in the comments below – I'd like to hear from you, especially if you disagree. I'll see you there and in the next article.